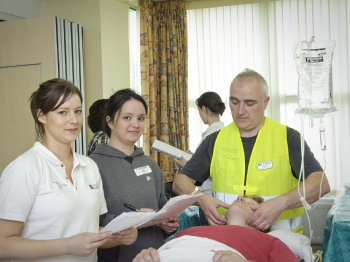 Scenes of bravery, tragedy and medical crisis unfolded in Gransha Park yesterday as a full scale disaster response training exercise was enacted by nursing students from the University of Ulster and Red Cross volunteers.
Dog walkers and hospital visitors could have been forgiven for thinking they had stumbled upon the scene of a disaster movie as over 60 student nurses and Red Cross volunteers battled to save lives at the scene of a simulated plane crash which resulted in casualties being thrown from the aircraft into a forested area of the Gransha estate.
Professional stage makeup and some fine acting by volunteer casualties helped make the scenario as realistic as possible and provided the ideal training opportunity for nurses and Red Cross teams to practice their casualty location, triage, first aid and emotional support skills.
Pat Deeny, Senior Lecturer in Nursing and Exercise Co-Ordinator from the University of Ulster's School of Nursing at Magee, congratulated the nursing students for their excellent work in portrayal of casualties and in particular the setting up and management of a Field Hospital.
He said, "Disasters still pose the greatest threat to human existence on the planet. Simulation of mass casualty events which are a common feature of disasters, help healthcare professionals gain direct experience in disaster response without the risk to personal safety.
"Nursing is a very practical profession and we place a lot of value on experiential learning in an 'open classroom' situation like this. The simulated exercise gave our senior nursing students an excellent opportunity to practise their management and leadership skills in a stressful but safe environment which helps them gain professional confidence for future roles in the Health Service at home or abroad. Role playing as casualties gives them a greater appreciation of what it's like to be on the receiving end of treatment which will help them to empathise with their patients.
"Most importantly it also helps them appreciate the valuable role played by voluntary emergency response organisations like the Red Cross and St John's Ambulance in helping achieve World Health Organisation goals related to disaster preparation and risk reduction for communities across the world."
Joanne McKenna, Emergency Response Manager for the Red Cross, paid tribute to the volunteers who took part in the training exercise.
She said, "Emergency response is all about being prepared and it's vital that our volunteers get the opportunity to test their skills and put their training into practise in as realistic an environment as possible.
'I'd like to thank the School of Nursing at the University of Ulster for working with us on this exercise, the Western Trust for generously allowing us the use of their facilities, and colleagues in the PSNI and St John's Ambulance for their support in the planning and delivery of the exercise."
Caption
'Casualty' Richard Watters receives treatment form student nurses Emma Taylor, Karen Burrows and Senior Nursing lecturer, Pat Deeny.