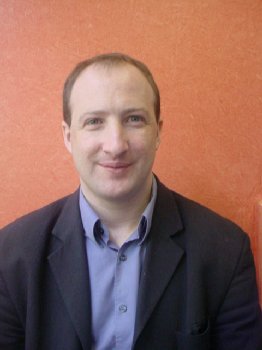 Cutting edge research at the University of Ulster is helping a leading Northern Ireland labelling company reinvent itself and target new markets ahead of its competitors.
Ulster academics Dr Kevin Curran from the School of Computing and Intelligent Systems at Magee, Professor Dennis McKeag from the School of Engineering and Engineering graduate and KTP Associate Dr Charles Young are collaborating with Nuprint to introduce innovative tracking technologies into the company's production processes.
Ulster's partnership with Nuprint is one of a number of exciting KTP projects between Ulster and the local business community. The KTP initiative – Knowledge Transfer Partnership – allows organisations in the private, public and community sectors to utilise resources and knowledge available within universities and apply them to their own business environment.
The Derry based company specialises in the print of labelling for the food, drink, clothing and pharmaceutical industries and supplies a wide range of small and large businesses around the world.
Dr Curran explains that they are working with Nuprint using new engineering technology such as RFID (Radio Frequency Identification) tags to develop and introduce innovative label solutions to provide higher added value revenue streams for Nuprint in addition to creating new business with new customers.
"This will allow the company to target new markets and stay ahead of the competition, which in turn will enable it to increase its revenue significantly.
He continues: "RFID is a flexible and versatile technology that has become prominent in the areas of supply chain management and security.
"It uses radio frequency communication to transfer data between the two key components of an RFID system, the tag and the reader. The benefit of RFID is its ability to track the exact location of objects. It has many advantages over other similar technologies, including communication between the reader and tag in any orientation, the ability to communicate at high speeds and the ability to uniquely track any object on which a tag is attached. It is these characteristics that make it ideal for printed labels."
Dr Curran says the new tracking procedures allow the company to immediately identify and locate the progress of each stage of the labelling process on the shop floor.
"This has enormous benefits in identifying problematic orders by helping to eliminate delays early in the production process."
In addition to developing RFID tracking, the KTP project is also focussing on embedding a new product development process incorporating a best practice quality control system and procedures. This will allow Nuprint to maximise customer retention, exceed customer expectations and to differentiate itself from its competitors on the basis of providing total value solution-led technology, high quality products sample label options and attractive lead times.
Nuprint has a proven track record of innovation and embracing change. When the company was established in 1984, it was a specialist supplier of labels to the clothing industy and clients included M&S, Fruit of the Loom, Dunne's and Burberry. The demise of the textile industry in the North West could have sounded the death knell for Nuprint. Instead, the company turned its attention to other niche sectors and now supplies labels for a wide range of small and large businesses around the world. Clients include drinks giant Diago – over the past few years Nuprint has supplied over 90 million labels for Magners Cider.
This is Nuprint's third collaborative project with academics at Ulster and Nuprint's Manager Director, Gavin Killeen, says the decision for Nuprint to get involved was a 'no brainer'.
"We are very fortunate to have this kind of technical expertise quite literally on our doorstep so we would be foolish not to make the most of it.
"At Nuprint we like to think 'outside the label'. By introducing new technologies and printing processes, we have created new opportunities for our clients. We understand that labels do much than just name things – they can track stock, control warehousing, improve security and communicate a brand personality that consumers can believe and trust in.
"Working with the University of Ulster has made a huge difference to our company, giving us the confidence to innovate and go after new markets."