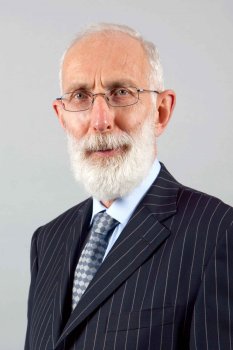 John McNeill, Police Complaints Commissioner for Scotland has been appointed as Visiting Professor at the University of Ulster. Professor McNeill takes up his new position within the School of Criminology, Politics and Social Policy in the Faculty of Social Science at Ulster's Jordanstown campus.
Originally from Belfast, Professor McNeill now lives in Edinburgh and is married with three grown up children. Professor McNeill has had a long and distinguished career in the criminal justice sector, having worked with the prison service in both Northern Ireland and Scotland - as probation officer and governor in the former and as governor in the latter.
Prior to taking over as Police Complaints Commissioner, he served as Chief Executive and Company Secretary of SACRO, a Scottish community justice voluntary organization. Professor McNeill has taken a lead on research and risk management, spearheading many changes in the response to mentally disturbed offenders, bail and remand, restorative justice and the imprisonment of female offenders.
His innovative approach to developing a multi disciplinary, inter agency approach to reducing the risks posed by prisoners has been adopted by other jurisdictions.
In addition to contributing to ambassadorial, representative and promotional aspects of the University's activities, Professor McNeill will contribute to the BSc (Hons) Criminology and Criminal Justice and MPA programmes. He will also contribute to research within the cluster group of criminology.
Welcoming his appointment, Ruth Fee, Head of the School of Criminology, Politics and Social Policy, said she was confident that Professor McNeill would enrich the students' learning experience and make a contribution to research in the School.
"John has extensive experience of corporate governance and the management of risk within a range of public bodies across the United Kingdom and internationally, principally in criminal justice.
"He has a track record of being innovative and has introduced major improvements in professional practices. This has been characterised by the application of a rigorous, evidence based approach which has resulted in legislative changes, and the strengthening of corporate governance in a range of organisations.
"This combination of policy formulation, strategic direction and performance management has been a constant feature of his approach which has produced major benefits for the organizations he has been involved with."
She added: "I believe his unique experience will enhance provision across a range of subjects within the School at both undergraduate and postgraduate level. His career will be of particular interest to students on the Masters of Public Administration (MPA) given the governance and risk issues arising from the ongoing review of public sector spending."
Professor McNeill is also a member of the Probation Board for Northern Ireland and has served on the Civil Nuclear Police Authority, Scottish Human Rights Commission and the Parole Board for England and Wales.
Ends