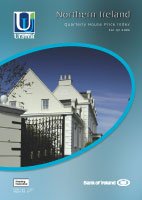 The average house price in Northern Ireland fell by 7.7% last year but showed signs of stabilising in the final quarter with a weighted increase of 0.1%, according to the latest University of Ulster Quarterly House Prince Index.
Produced in partnership with Bank of Ireland and the Northern Ireland Housing Executive, the Index shows that after an optimistic start to 2010, prices slipped back in the second half of the year.
The university's survey of 110 estate agents for the final quarter of the year found that the overall average price of a house was £149,795. The volume of house sales continued to fall, with a sample of 684 open market transactions in the fourth quarter compared with 795 in the third quarter and 1,009 in the second.
The authors of the report - Professor Alastair Adair, Professor Stanley McGreal and Dr David McIlhatton - said: "The second half of 2010 has been a difficult period for the housing market in Northern Ireland, contrasting with the tentative signs of recovery in the first half of the year.
"It seems that the prospects for the UK economy, local fears of public sector cuts and possible contagion effects from the Irish economy may have dented confidence in the local market and that the severe weather conditions may have impacted on sales volumes in the final quarter."
The survey report said lower prices and reduced sales suggested the housing market continued to lack any momentum, a sentiment supported by anecdotal evidence from estate agents throughout Northern Ireland. However, a number of agents in the Belfast area and east of Northern Ireland expressed greater confidence in the quarter suggesting a regional variation which is supported by the quarterly price movement.
Alan Bridle, UK Economist, Bank of Ireland, said: " This survey confirms that 2010 was not a year of housing recovery in Northern Ireland and the market faces into further headwinds in the next 12 months, both on the demand and supply sides - household incomes are falling in real terms and interest rates are likely to rise while, in reality, funding and regulatory pressures across the UK market will mean little change in the pattern of mortgage activity in the short-term.
Overall, 2011 may be the year when the local market bottoms out."
The survey indicated that the market is becoming increasingly lower priced with 29% of properties selling at or below £100,000. Collectively, 63% of houses sold at or below £150,000. In comparison, at the peak of the housing boom, less than 10% of properties went for below £150,000 – which, said the authors, indicated a potentially more affordable housing market.
The Housing Executive's Head of Research, Joe Frey, said: "It is important not to lose sight of the positive side to the huge drop in prices that we have seen since 2007. The ongoing cost of servicing a mortgage is now much more affordable for first-time buyers and investors alike. The key challenge for both policy makers and lenders is to restore confidence in the market, and in particular facilitate a more relaxed lending regime where the size of deposits is not such an insurmountable hurdle".
House Price Index
The long-term House Price Index, calculated relative to the base quarter for the survey in 1984, declined to 566.6. The pattern of the index since 2009 has been erratic, showing uneven recovery in the market. The report said that this tentative, fluctuating pattern is likely to continue through 2011 as the market seeks to stabilise.
Property Types
Performance across different types of property was highly variable, partly reflecting the small volumes of transactions in each property segment.
The annual performance – comparing quarter four 2010 with quarter four 2009 – showed that terraced/townhouses fell by 21.1%; semi-detached bungalows dropped 17%; semi-detached houses were down 9.6%; and detached bungalows fell 4.5%. Apartments showed an annual increase of 7.1% while detached houses went up marginally by 0.4%.
Regional performance
At regional level, the picture in the fourth quarter showed prices continued to be rather variable, volatile and generally lower in most areas.
In Belfast the average price of housing fell by 4.1% over the year to £157,766 but the fourth quarter was up by 14.2% over the third quarter. The annual picture indicates that the Belfast market performed better than that for Northern Ireland as a whole.
The position was very variable across different property types with terraced/townhouses performing poorly with a 29.8% drop while, for instance, detached houses showed a significant growth in price of 26.2%.
The highest priced city location continued to be south Belfast where the average price in the fourth quarter was £232,039. This was followed by east Belfast with an average of £156,233, west Belfast with £146,919 and north Belfast with £100,268.
North Down's average house price of £168,203 was down by 9.7% over the year. The performance of different property types varied strongly, with terraced/townhouses down by 12.1% to £110,784 and detached bungalows down by 17% to £196,333. In contrast, detached homes were buoyant, up by 31.1% to £379,182 over the year.
The average house price in Lisburn fell by 18% over the year to £148,397 but the quarterly comparison showed a rise of 3.7%. Annually, semi-detached homes fell by 9% to £143,670, and detached houses dropped by a similar 9.3% to £195,182. A stronger fourth quarter performance in the detached house sector indicated that some confidence might be returning to the market.

East Antrim demonstrated evidence of continued growth in price levels. The overall average of £144,153 was up 5.2% over the year. However, trends differed across property types, with detached houses rising by 9.5% to £232,553 and apartments up by 16.3% to £109,994. In contrast, both terraced/townhouses and semi-detached homes showed an annual fall.
In Antrim/Ballymena the overall average price continued to fall, showing a 17% annual decline to £141,753. There was considerable variation across property types with semi-detached houses, for instance, down by 16.1% over the year to an average of £123,136. Compared to the third quarter of 2010, the local market looked more optimistic with a 3% increase in the average sale price.
For the Coleraine/Limavady/North Coast region the overall average price of £159,908 was down 2.3% over the year, with evidence that the rate of annual decline is slowing. Some property types fell, such as semi-detached houses down 24.7% to £140,950, whereas detached houses went up by 26.6% to £216,250.
For Derry/Strabane the overall average of £158,276 was up 6% over the year, but the small sample size led to significant volatility in the picture. The strong performance of a limited number of detached houses, average price £311,000, helped to improve the overall picture this quarter.
The overall average house price in Mid-Ulster declined by 6.5% over the year to £138,569. This compared with an annual decline of 9% in the previous survey, indicating a further relative improvement in the market. Over the year all property types fell in price, notably terraced/townhouses which fell 24.8% to £83,029. However, compared to the third quarter of 2010, the latest survey showed some improvement with terrace-townhouse prices rising by 6.6%, semi-detached bungalows up by 2.7% and detached bungalows up by 5.3%.
In Enniskillen/Fermanagh/South Tyrone the overall average price was only slightly down by 3.3% over the year to £145,107, indicating an improving position relative to the previous survey which recorded a 15% annual fall. The market was characterised by a very small volume of sales over the final quarter, introducing considerable volatility into prices

For Craigavon/Armagh the overall average price of £123,639 was down 8.4% over a year, in contrast to the picture in the previous survey. There was considerable variability in the market, partly because of low volumes. Hence terraced/townhouses showed a 19.3% annual rise to £84,086 but semi-detached houses showed a 20.1% fall to £102,189.
In Mid & South Down, the survey suggested a reversal with prices lower across the board both on annual and quarterly comparisons. The overall average of £128,887 was unexpectedly low for this region and was probably affected by the relatively small number of sales. This represented an annual decline of 23.8%. Again, property types varied, with terraced/townhouses declining by only 4.3% to an average of £107,325.
Ends
Notes to Editors:
TABLES
Performance by Property Type Q4 2010
Market sector
Annual change
Average Price
Quarter 4
Terraced/townhouse
-21.1%
£98,584
Semi-detached house
-9.6%
£138,427
Detached house
0.4%
£251,225
Semi-detached bungalow
-17.0%
£111,212
Detached bungalow
-4.5%
£188,718
Apartment
7.1%
£133,428
Average house price by region Q4 2010
Location
Average Price
Quarter 4
Northern Ireland -All
£149,795
Belfast - All
£157,766
North Belfast
£100,268
South Belfast
£232,039
East Belfast
£156,233
West Belfast
£146,919
North Down
£168,203
Lisburn
£148,397
East Antrim
£144,153
L'derry/Strabane
£158,276
Antrim/Ballymena
£141,753
Coleraine/Limavady/N. Coast
£159,908
Enniskillen/Fermanagh/S.Tyrone
£145,107
Mid Ulster
£138,569
Mid & South Down
£128,887
Craigavon/Armagh
£123,639
FULL REPORT:
http://news.ulster.ac.uk/podcasts/QHPIFeb2011.pdf

Media contacts:
For University of Ulster:
David Young: 028 90 366178/07808 911 343
For Bank of Ireland: Alan Watson or Catherine Agnew SMARTS +44 (0)28 9039 5500.
For NIHE: Imelda McGrath or Jim Murray +44 (0) 28 9031 8700