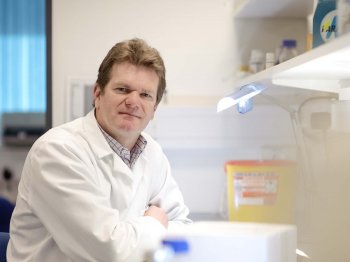 China and the University of Ulster are teaming up in the battle against Alzheimer's disease.
In a double boost for Ulster, neuroscience expert Professor Christian Holscher has been honoured by a top university in Shanxi Province and Chinese authorities will fund collaboration there on development of a new element in his dementia research.
Tests by Professor Holscher and his team have revealed that Victoza®, a once-daily injected drug developed by Novo Nordisk and used to treat type 2 diabetes, also shows strong potential to help people who have Alzheimer's disease, by reducing or slowing down degenerative symptoms.
He said: "My group tested Victoza® to determine if it had any beneficial effects in cellular models of Alzheimer's disease and we found that it does. It is quite potent in protecting neurons.
"Our pre-clinical trial work at the Biomedical Science Research Institute at Coleraine looks very promising, but now we have to show that it actually works in people who have the disease."
Under a major agreement signed in the city of Taiyuan by Professor Holscher and academic and government officials, clinical studies on the effectiveness of Victoza® will be conducted and funded by the Medical University of Shanxi.
The agreement signals hope by the Medical University and the Chinese government to ease conditions for China's increasing number of Alzheimer's patients. The country has the world's largest – and fastest ageing – population.
Alzheimer's affects nearly 16,000 people in Northern Ireland and 820,000 across the UK.
The proof-of-concept clinical trials at the Medical University will involve brain, memory and blood tests on 50 people who have the disease.
Under the agreement, Professor Holscher has been appointed a Visiting Professor, which makes him an honorary member of staff. He and Ulster colleagues will also contribute to research projects on new treatments that their Chinese associates have already initiated at the Medical University.
Professor Holscher said: "Being made a Visiting Professor is a great honour for me and I see it as significant endorsement of the pioneering work that is being conducted here on many fronts at the Biomedical Sciences Research Institute."
He added: "The agreement is a great opportunity for the University of Ulster because China is investing heavily in new universities and hospitals. They want new people from abroad with new concepts and techniques who will engage with their own researchers."
"They are very supportive and have already started numerous experiments for the Alzheimer's project, but there are a lot more which are planned for the future."
Ulster holds intellectual property rights for the use of various GLP-1 analogues, including Victoza®, and is currently conducting research to explore its effectiveness in treating neurodegenerative diseases, such as dementia, Alzheimer's and Parkinson's disease.
With initial proof of concept support from Invest Northern Ireland, Professor Holscher has generated a wealth of preliminary data to date and has established exploratory links with several major pharmaceutical companies with the aim of testing other drugs for anti-dementia properties such as cell development and protection.
Invest NI's support is part funded by the European Regional Development Fund under the Sustainable Competitiveness Programme for Northern Ireland.
ENDS
Caption: Professor Christian Holscher in his laboratory at the University of Ulster's Coleraine campus.