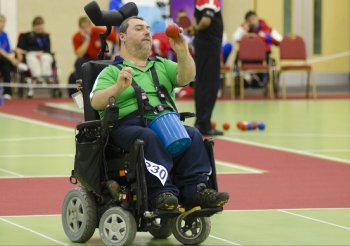 There were mixed fortune's for Ireland in today's Boccia World Cup at the University of Ulster, while Team GB impressed as the individual competition got underway.
Ireland's Johnny Cronin had an impressive 5-0 win over Sio Keong Hoi of Macau China in the BC3 category, while Roberta Connolly had a clean sweep in the BC2 category with a 3-0 win over Australian Fiona Lyons. Also in BC2, Jason Kearney is off to a great start after beating Argentina's Pablo Sebastian Gonzales.
Padraic Moran was unlucky to lose by one ball in a thrilling match against Manuel Angel Martin of Spain. Moran, who is a former champion in the BC1 category but has been re-classified as a BC2, led going into the final set but was unlucky to miss out on a win.
"That was my first ever game in the BC2 category and I almost won against the number four ranked player," said Padraic.
"There are still two games left in the pool competition tomorrow against a Brazilian player and then Thursday and I hope that I can get through the pools but you just never know in Boccia."
Boccia players from Great Britain continued their good form in the competition.
After picking up a bronze medal in the team competition on Monday, there were wins for Jacob Thomas, Scott McCowan, Jess Hunter in the BC3 category, Nigel Murray and Zoe Robinson in the BC2 category, and David Smith in BC1.
Tuesday 23 August Ireland and GB results
Ireland results
19-(IRL) Johnny Cronin 5
(BC3.Pools-G.Match-1)
328-(MAC) SIO KEONG HOI 0
230-(IRL) Jason Kearney 4
(BC2.Pools-B.Match-2)
203-(ARG) Pablo Sebastian Gonzales 1
229-(IRL) Roberta Connolly 3
(BC2.Pools-C.Match-4)
205-(AUS) Fiona Lyons 0
03-(BEL) Pieter Cilissen 8
(BC3.Pools-E.Match-2)
320-(IRL) Gerard O'Grady 0
113-(GBR) David Smith 5
(BC1.Pools-C.Match-1)
119-(IRL) Gabriel Shelly 3
36-(SWE) Sebastian Hogrell 5
(BC3.Pools-L.Match-2)
321-(IRL) Jenny Garde 3
240-(NOR) John Norsterud 5
(BC2.Pools-B.Match-4)
230-(IRL) Jason Kearney 1 (lose)
255-(ESP) MANUEL ANGEL MARTIN 3
(BC2.Pools-D.Match-1)
228-(IRL) Padraic Moran 2
GB Results (so far more to follow this evening)
317-(GBR) Scott McCowan 4
(BC3.Pools-B.Match-8)
315-(GBR) Jess Hunter 3
38-(THA) SUKKARATH VILASINEE 2
(BC3.Pools-C.Match-2)
360-(GBR) Jacob Thomas 9
113-(GBR) David Smith 5
(BC1.Pools-C.Match-1)
119-(IRL) Gabriel Shelly 3
306-(BRA) GONÇALVES NETO ALEXANDRE 2
(BC3.Pools-B.Match-2)
315-(GBR) Jess Hunter 4 (WIN)
359-(SIN) Nurulasyiqah Binte Mohammad Taha 0
(BC3.Pools-C.Match-3)
360-(GBR) Jacob Thomas 8
220-(GBR) Nigel Murray 10
(BC2.Pools-A.Match-1)
253-(RSA) JORDASH MAISTRY 1
237-(NED) Bulthuis Judith 4
(BC2.Pools-E.Match-2)
222-(GBR) Zoe Robinson 6
114-(GBR) Andrew Morgan 2
(BC1.Pools-B.Match-2)
110-(CHN) Yi Wang 3
220-(GBR) Nigel Murray 3
(BC2.Pools-A.Match-3)
244-(POR) ABÍLIO VALENTE 5