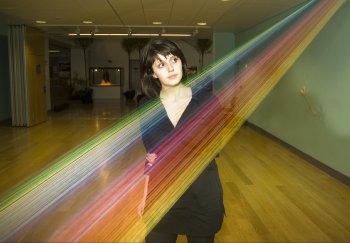 A new art installation by acclaimed Dublin artist Mark Garry is currently on exhibition at the University of Ulster's Belfast campus.
The central element of the installation is a delicately created structure of dozens of fine, silk threads pinned from the walls to the floor, creating a powerful rainbow of light-infused colour.
Mark's exhibition, entitled 'Surfaces', is in keeping with his previous installations, which are site-specific.This means he works specifically and uniquely with the physical architecture and atmosphere of each of the spaces in which he is invited to exhibit.
The artist spent a week meticulously planning and installing the work for The University Gallery. And the recently opened installation has attracted a lot of interest.
Curator Hugh Mulholland said: "Students, staff and the public are really being drawn to this installation as the work at first presents an optical illusion.
"From a distance viewers believe it is beams of light, but it's only when they move closer that they see the material use. Their response has been one of amazement and respect for the labour involved.
"Mark has cleverly incorporated a wide selection of natural and craft materials including thread, beads, woodcarvings, origami and mass produced netting to produce the most beautiful and evocative works."
The artist explained the thinking behind his installations: "My practice is concerned with devising methods that engage with, and navigate viewers through, physical spaces.
"My installations combine physical, visual, sensory and empathetic analogues, creating arrangements of elements that intersect the space and relate to the physical ergonomics of the space and each other."
The 'Surfaces' exhibition runs until May 6.
~Caption: Shelby Woods, a Master of Fine Art student, visits the Surfaces exhibition in the University Gallery at the University of Ulster's Belfast campus