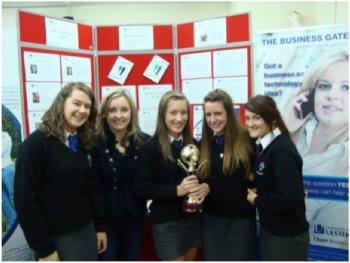 OVER one hundred and seventy students from 23 schools across Northern Ireland and two from Donegal took part this month in a Global Finance Challenge organised by the Department of Business, Retail and Financial Services at the Ulster Business School.
The event was organised by Dr Lisa Bradley as part of the Open Week programme for sixth form visitors to the Coleraine campus of the University of Ulster.
Top honours went to two teams from Dalriada School in Ballymoney who managed to generate an excess of 3% return on their investment portfolios.
As part of the competition, students were given a set of easy investment rules and a summary of recent corporate information about 30 well-known globally-traded companies.
The teams then had to use this information along with any prior knowledge and gut instinct to decide which five companies would generate the biggest return on their investment.
The games designer, Dr Graeme Acheson, also from the Department of Business, Retail and Financial Services was extremely impressed by the ability of the students to decipher what news would result in the largest gains in stock market value. He said:
'The highest returns were achieved by those students who avoided troubled firms like BP, recognised that the increase in the price of gold would improve the prospects of mining firms and were aware of the recent Burger King merger announcement.'
The closest competition for Dalriada School came from Wallace High School Lisburn, Lurgan College, and The Royal School, Dungannon who all managed to generate returns in excess of 2.8%.
At the event students were able to meet with members of the finance team from the University of Ulster including Professor Colin Glass, Dr Ken Dyson and Roger Snowdon.
The event also showcased two new finance degrees available at Ulster's Coleraine campus: BSc (Hons) Finance and Investment Analysis and BSc (Hons) Financial Services.
ENDS