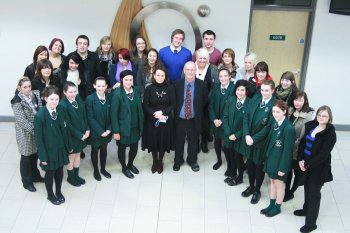 A group of University of Ulster students looking at the role ICT will play in 'Schools of the Future' recently visited a college in Derry where state-of-the-art technology is already being used to teach pupils.

The students, who are studying education at Ulster's Coleraine campus, spent a day in St Cecilia's College new building where ICT has been is at the heart of the school's design.

The students have been interacting with pupils via the school and University's video-conference facilities. Jacinta Hardy, who co-ordinates ICT in the school has been working with the Coleraine students as an online tutor.

Principal Kathleen Gormley said: "Our new college provides a wonderful opportunity to use ICT to blur the lines between second and third level education and we are delighted to work on this project with the University of Ulster.

"ICT plays a major part in the lives of our young people today - in our old school, which was on this site, we had only three computer rooms and now we have 500 PC's with a mobile laptop trolley on each floor and 60 interactive whiteboards with not a blackboard in sight.

"The ICT landscape is forever changing and we will serve our students best by embracing that change and more importantly planning for it. This means an increasing part of our budget has to be spent on kit and on constant up-skilling of staff on a weekly basis."

Dr Roger Austin, from the University's School of Education, said: "This visit was a wonderful opportunity for our students to actually see a school of the future and to explore how ICT is making a real difference to the students and staff; we are very grateful to St Cecilia's for supporting this partnership both on-line and face to face."
Many of the students will be in schools later in the year on the 'Tutoring in Schools' scheme so we want to make sure they understand how they can use ICT to help pupils.