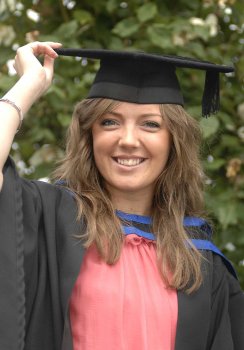 Louise Stevenson
Languages graduate Louise Stevenson (22) says her foreign placement was a life-changing experience that gave her insights into the way of life of French people and earned her friendships that will endure.
A committed Christian, Louise, who receives her BA Hons French and English at Coleraine campus today, found also that it made her examine the way she expressed her faith, literally. For she found herself conducting French-language Bible study classes and having to find new ways of translating familiar religious terminology for her listeners.
Louise is from Dollingstown, near Moira, and is a member of Shankill Church of Ireland parish in Lurgan, County Armagh. She stayed with a host family in Perpignan in the south of France and worked with a local Protestant Evangelical church. There she worked with young people in the church, setting up a girls' group and along with another devout Christian, Ruth Sykes from Cambridge, threw herself into setting up a Christian Union group for university students in Perpignan.
"We had Bible study classes once a week in a local McDonalds. We were not allowed to meet on campus because of French laws." Despite frequent rebuffs from students, they kept at it. It was a uplifting, she recalls, seeing how one young student whom they met "came away with really strong faith" in place of his earlier aimlessness. "Being there really improved my French. I was constantly submerged in French."
Translating English language concepts of faith was daunting but worth it. "You don't realise how much Christian jargon we use until you have to learn it in a different language. Trying to explain the basis of what we believe in French was a big challenge. Sometimes here we can get over-complicated about how we explain the Gospel. But I found that my limited French was actually helpful because it meant that I had to strip back what I believed in to its core so that I could express it in French."