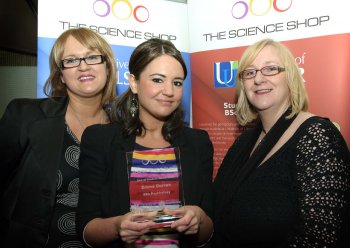 Claire Mulrone, Science Shop Administrator, Emma Curran and Margaret Gallagher, NSPCC
More information on positive parenting techniques from government and an increased awareness of children's rights are vital to changing people's attitudes toward the physical disciplining of children, according to University of Ulster research.
Final-year psychology student Emma Curran, who is from Derry, carried out the research as part of a Science Shop project, in partnership with the NSPCC, to examine current attitudes to the use of physical discipline, specifically in relation to students who are training in professional areas.
The study scooped the top prize of £650 at the annual Science Shop Awards, which recognise the best community-based action research projects of the year.
A major finding of the study, which surveyed 81 students, revealed a lack of knowledge about the current law regarding assault of children.
"Although the majority of people who took part in this study did not agree with the use of physical discipline it was still viewed as an effective method for increasing obedience, respect for parents and learning of acceptable behaviour. The research also revealed a lack of understanding relating to the law on the physical discipline of children," said Emma.
"International research suggests that legislative reform plays a pivotal role in sending a message to society that the use of physical discipline is unacceptable behaviour. The government should be providing more advice and information on positive parenting techniques and alternatives to physical discipline, not just for parents but to the general population. This linked with increased awareness of children's rights could serve to provide a framework which would help to secure attitudinal change."
Margaret Gallagher, local campaigns coordinator for NSPCC Northern Ireland, said: "I would like to congratulate Emma on achieving this award. Smacking simply tells a child that violence is acceptable and gives the message that it's all right for them to hit other people. There are better and safer ways to discipline children than physical punishment. Good parenting is about making a child feel valued, praising their good behaviour and setting a good example."
David Stevenson, a final-year criminology and criminal justice student from Strabane, was awarded second prize of £350 for his research into restorative justice, in partnership with the Youth Conference Service.
The Science Shop is a community outreach initiative that provides community and voluntary groups across Northern Ireland with access to students, who will help with the completion of community based projects.
Claire Mulrone, Science Shop Administrator at Ulster, said: These students have been recognised for their valuable contribution to their respective community partners, the NSPCC and the Youth Conference Service. This is an endorsement of the value of Science Shop activities at the University of Ulster to the voluntary and community sector right across Northern Ireland."
For further information on the Science Shop at the University of Ulster contact Claire Mulrone at: c.mulrone@ulster.ac.uk or visit: www.scienceshop.org/