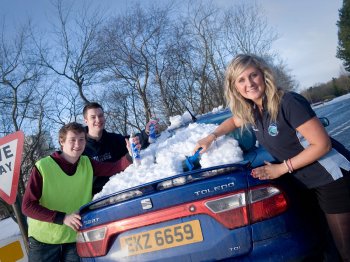 The University of Ulster Students' Union is set to launch a road safety campaign designed to make young drivers think about the dangers on our roads.

Emma Annett, Sean Cunningham and Alasdair O'Hara from Coleraine are teaming up with the PSNI and the Fire and Rescue Service to get the 'safe driving' message across to students on the North Coast.

The hard-hitting campaign, which will be launched in the New Year - will involve a dummy car crash taking place outside the Students' Union to highlight the stark reality of a fatal accident.

Emma Annett, Vice President for Education and Welfare, said: "Sadly so many road deaths in Northern Ireland involve younger drivers. We decided one of our first campaigns in 2011 would aim to encourage students to become safer drivers, and hopefully help reduce the number of road accidents as a result.

"In a heart breaking visual display we will set out a pair of shoes for every person killed on Northern Ireland's roads in 2010 to highlight the true human tragedy behind every fatal road crash. We will also release balloons to represent every life lost on our roads this year."

The Union will also give out free tyre gauge key rings to remind students to check their tyre tread regularly and free windscreen scrapers to help keep vehicles free of snow and ice in the poor winter driving conditions.

There will be workshops giving advice on safe driving in winter conditions including how to carry out important safety checks as well as free advanced driving lessons for a limited number of young drivers.

Funding of nearly £3,000 for the campaign has already been secured by the Ulster Students' Union from UnLtd – a charitable organisation which supports young social entrepreneurs.

Sean Cunningham, Site Vice President at Coleraine said: "The Students' Union took part in a rigorous application process to demonstrate how we would run an effective road safety campaign at the campus. We are delighted to have been awarded this funding for such a worthwhile campaign.

"Young men in particular are still vastly over-represented in road fatalities. I would strongly urge all young drivers to take extra care on our roads especially at this time of year when conditions are so poor."

Alasdair O'Hara, an Environmental Science student, added: "It is vital that all young people - including students - are targeted in road safety campaigns. Drivers aged between 17 and 24 years old account for around 11% of our licensed drivers, yet were responsible for 38% of fatal collisions in recent years."