Recruit our students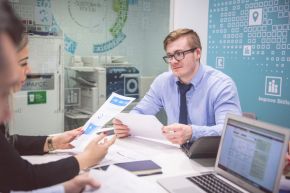 Opportunities are advertised to our students and graduates, free of charge and through different channels.
Graduate vacancies
Graduate Recruit promotes graduate opportunities and employers events.
Placement opportunities
Ulster is one of the top six providers of sandwich placements within the UK - register placement opportunities via Placement Recruit
Summer Internships, part-time vacancies and volunteering
Advertise Summer Internships, part-time jobs and volunteering opportunities through Work Experience Recruit.
Graduate Internships
The Professional Experience Programme and the Santander SME Internship Scheme offer local employers attractive mechanisms to recruit recent Ulster graduates.
Professional Experience Programme 2016/17
This scheme offers local employers the opportunity to recruit an Ulster graduate for a six month full-time role.
The graduate gets £6000 over the 6 month period with the employer contribution £3750.
The following applies:
participating graduates complete a Postgraduate Certificate in Professional Practice over the six month period.
the current six month period is 19 September 2016 to 17 March 2017
Ulster University administers the bursary payments
This will be the fifth year of this highly successful programme. In 2015/16 over 80% of participating graduates were offered further employment by their internship employer.
If you are interested in participating in PEP 2016/17 please contact Brian Byers or complete our expression of interest form.
Santander SME Internship Scheme 2016/17
This scheme offers SMEs the opportunity to recruit an Ulster student/graduate for a 10 week part funded internship.
Only SMEs or charitable organisations with employee/income restrictions of SMEs are eligible.
You, as the employer, will carry out the interviews and select the relevant candidate.
Ulster University administer the bursary payments.
If you are interested please submit an expression of interest form or contact Brian Byers.