Ulster University hosts the Northern Ireland Executive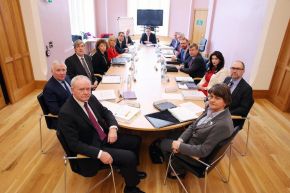 The First Minister Arlene Foster and deputy First Minister Martin McGuinness are pictured with other Executive Ministers at their March 2016 meeting at Ulster University's Magee campus.
Ulster University was delighted to host the Northern Ireland Executive at its Magee campus today.
This was the final meeting of this current Executive before the Northern Ireland Assembly elections on 7 May 2016.