Ulster University graduate embarks on new career in Pharmacy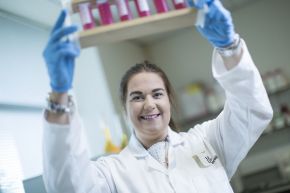 Sara is set to begin her pre-registration pharmacist training in July allowing her to kick-start her career within the health sector.
Ulster University graduate Sara Gardner from Ballymoney, will graduate today with an integrated Master's in Pharmacy with Honours. With Ulster University named as number one in the UK for studying pharmacy, Sara completed the four-year course following her passion for science from a young age.