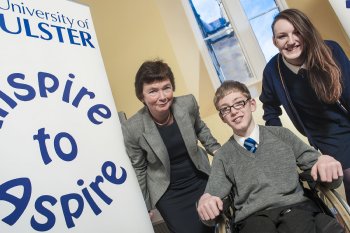 The University of Ulster is urging young people with physical disabilities to consider the opportunities offered by higher education.
Through its innovative outreach project, Inspire to Aspire, Ulster engages with local schools and community organisations across Northern Ireland to highlight the support available to disabled students.
Pupils from schools across the north-west heard inspirational stories of achievement from Ulster students and graduates with physical disabilities.
Suzanne Glover, a BSc Honours Communication with Counselling student and disabled student ambassador, said:
"The University of Ulster has offered me a welcoming and supportive environment in which to study, with dedicated Disability Services staff on hand to help with any difficulties that may arise.

"The transition period from school to university can be a daunting one but there is so much support available at Ulster, from providing suitable accommodation and having a notetaker in lectures, to supplying advice on access to funding.

"My message to young people with disabilities thinking about going to university is to go for it – it is the best decision I have ever made."
Professor Anne Moran, Pro-Vice-Chancellor, Educational Partnerships and International Affairs, said:
"The University is committed to ensuring that higher education is within everyone's reach. We recognise the challenges that disabled students can face and are dedicated to supporting their needs.

"Through the Inspire to Aspire programme we aim to inform young people with physical disabilities about the benefits of higher education and illustrate that university is a viable option for them in the future.

"Having a physical disability should not be a barrier to higher education and we hope more young people will consider it as a pathway to success."