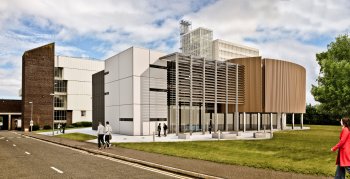 Architect's impression of the £5.1m teaching block now under construction at the University of Ulster's Coleraine campus.
The University of Ulster has begun construction of a new £5.1 million teaching facility at its Coleraine campus.
The development, due for completion in March 2015, will comprise of a state-of-the-art, three-storey building, joined to the existing central building via a glazed link.
In addition to a 250 seat raked lecture theatre and a series of teaching rooms, the new facility will include hubs on each floor with soft seating areas and wi-fi access providing students a less formal learning space.
Professor Deirdre Heenan, Pro-Vice-Chancellor (Communications) and Provost, Magee and Coleraine, said: "The University of Ulster is delighted to announce this £5.1 million investment into teaching facilities at its Coleraine campus.
"We want to ensure that the facilities we provide continue to meet the needs of our students now and in future years.
"This project marks the second phase of our development plans for the campus, with phase one - refurbishment of former catering areas and relocation of the Students Union – well underway.
"We also look forward to future developments on the campus including the construction of new academic accommodation and specialist teaching facilities, which are due to go on site in autumn 2014."