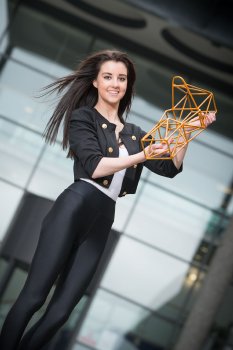 The University of Ulster has teamed up with some of the most successful and high-growth companies in Northern Ireland to showcase the skills of local engineering students and boost career prospects.
Huhtamaki Ltd, Lurgan; B/E Aerospace, Kilkeel; Crossland Tankers Ltd, Swatragh; Elite Electronic Systems, Enniskillen, Terex Corporation, Omagh and Intelesens Ltd, Belfast are working with the university on the initiative which sees first year students competing in engineering challenges. These include designing a chassis and aerodynamic skin for a Formula One racing car.
Professor Colin Turner, Head of School of Engineering, said: "It is extremely encouraging to have the support of these six leading companies in Northern Ireland. Many of the student engineers will undertake their industrial placement with these companies in just over a year's time.
"The University of Ulster is committed to producing highly talented graduates who can meet the demands of industry, secure valuable career opportunities and ultimately make a positive contribution to the local economy. Strong relationships between these high growth companies and the School of Engineering will help our student engineers to develop essential, industry ready skills."
Ends
Caption: University of Ulster engineering student, Amy-Leigh Trimble from Glengormley, was one of a number of students to showcase engineering skills this week to some of Northern Ireland's most successful and high-growth companies. The university is recognised for its ability to produce high calibre graduates who can meet the demands of key industry sectors.