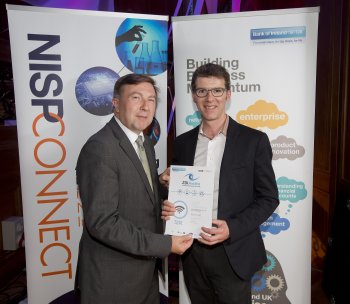 A University of Ulster academic has scooped a 'Best in Category' prize at the prestigious Northern Ireland Science Park (NISP) £25k Awards.
Patrick Richardson, an Optometry lecturer at the School of Biomedical Sciences, won the Hi-Tech category for 'Eye-C-3D', a high resolution camera designed to view the back of the eye in 3D.
His invention's novel, optical design dramatically reduces manufacturing costs.
Mr Richardson was presented with his award last night at a packed VIP gala ceremony in the iconic Titanic Belfast building, next to Northern Ireland Science Park in the Titanic Quarter.
Commenting on his success he said: "A lot of hard work has gone into developing the camera and I am delighted to have received the award.
"The next stage is to make Eye-C-3D a commercial success and deliver cost-effective 3D imaging to eye care professionals throughout the world.
"In our aging population the number of people with eye disease increases yearly. Eye-C-3D is a camera designed to help eye care professionals detect and manage eye disease more effectively, as early detection is often the key to successful treatment."
The annual £25k Awards are facilitated through the NISP CONNECT entrepreneurship programme.
Steve Orr, Director of NISP CONNECT said: "The £25k Awards offer a showcase for regional research talent to display world-class innovations, as well as providing a valuable training and development process as they move beyond the initial stages of business development.
"NISP CONNECT programmes are designed to inspire, encourage and nurture local technology entrepreneurs during conception, growth and improvement stages, and to continue that process to help them reach their goals."
Three other University of Ulster innovation projects were among the £25k finalists:
Jenarron Therapeutics Ltd developed a novel hydrogel drug delivery product which, when applied to an open wound or laceration, results in painless suturing with improved clinical outcomes and a superior patient experience;
DigitEase focuses on rheumatoid arthritis care and treatment for the hand, through an intelligent wearable data glove system which quantifies finger joint stiffness and range of movement;
Nite Rider is an accessory which will enable motorcyclists to see further at night, with the aim of reducing the number of individuals killed or seriously injured on our roads.