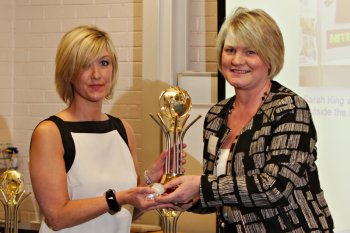 Business Management graduate Sharon Shirley, pictured with Dawn Hart, Armstrong Medical
A part-time degree at the University of Ulster's Coleraine campus has provided a launch pad for an enterprising businesswoman.
Sharon Shirley from Coleraine graduated from the Ulster Business School's Business Management course in July and scooped the Armstrong Medical Top Student Award.
As a mother with a young family and a full time job, Shirley embarked upon part-time study two years ago in a bid to progress her career at a pace that suited her busy lifestyle.
Sharon said: "Studying part time meant that I was able to balance existing work commitments while developing my personal and professional knowledge of business.
"Despite have twenty years of experience in business, I did not have any professional qualifications and in this current economic climate when competition for employment is high, experience alone is not enough.
"The module content was taught in a practical way and I was able to carry over what I learned on the course into the workplace.
"I would highly recommend the part time degree in Business Management to anyone wanting to progress their career to the next level. I feel that it has really enhanced my career prospects."
Marie-Therese Boyle, Course Director, based in the Ulster Business School's Department of Business and Enterprise, said: "We recognise that core business and management skills allow students to build commercial awareness and start contributing to an employer's bottom line quickly and effectively.
"The part time degree allows mature students to study at a pace to suits them best without the worry of paying full time university fees.
"Knowledge of how to manage a business effectively is the key to the growth of any business and whether employed in a small business or large corporation, the students on our Business and Management degree course are prepared for a career in business stretching across any sector or industry.
"The part time Business Management degree also provides the perfect launch pad for anyone who is self-employed or thinking of starting a new business, as it will help develop the skills required to own, operate and expand business operations."
The part time Business Management course is now recruiting for September 2013 and for January 2014.
For further information contact Course Director, Marie-Therese Boyle, Ulster Business School, Department of Business and Enterprise on: 028 70124371 or email: mt.boyle@ulster.ac.uk.