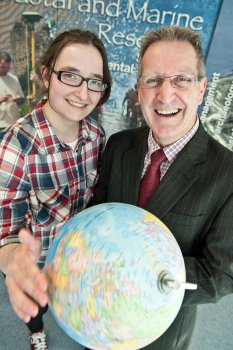 A paper reviewing the debate about the existence of an ice sheet in Scotland between 14,700 and 12,000 years ago has picked up the plaudits at the Undergraduate Awards (UA) for 2013.Limavady student Kyra Reynolds – who graduated in July with a first class honours degree in geography – emerged as the overall winner of the Agricultural and Environmental Sciences category.

The UA is a prestigious and international academic awards programme, which aims to celebrate and support the world's brightest and most innovative undergraduate students by recognising their best coursework and projects. The programme has been under the patronage of President of Ireland, Michael D. Higgins, since February 2012.

The winning paper questioned findings from the 1970s which suggested that all ice had disappeared by 13,000 years ago but more recent evidence suggests that ice may have remained throughout a brief warm episode. Kyra concluded that delving further into the mystery, might give important clues into the nature and rate of climate change as well as the relationships between earth systems such as the atmosphere and the oceans.

Kyra, who has just started a PhD programme within the School of Environmental Sciences, said: "I'm delighted that my work has been recognised in such a prominent forum. The award is testament to the fantastic teaching and innovative environment I was privileged to be part of here at the School of Environmental Sciences. This brilliant foundation allowed me to produce this paper as a piece of coursework during my undergraduate degree.

"I am so glad that Dr Paul Dunlop persuaded me to enter the awards initially in 2012 when I made the top 10% and his continued support allowed me to go one step further and win this year. Given the number of entrants – 3771 submissions from 184 academic institutions across 26 countries – the outcome is just unbelievable and I don't think it has quite sunk in yet."

Making it a double triumph, Kyra's identical twin sister Kendra who also graduated from Ulster with a first class honours degree in English, was one of four Ulster students who were selected as highly commended entrants. This recognises them as within the top 10% of their fields, in competition with students from universities across the globe including Harvard, Princeton, Oxford, Caltech, St Andrews, and Trinity College Dublin.

Professor Adrian Moore, Head of School of Environmental Sciences, added: "Kyra's achievement at these awards and indeed the accomplishments of all the Ulster winners, proves that they are among the brightest and most innovative students in the world. It also endorses the quality of teaching and the University's commitment to advancing knowledge by achieving international excellence in our research."

Winners of The Undergraduate Awards will attend the UA 2013 Global Summit in Dublin in November.