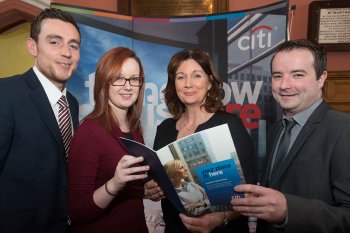 Damien Armstrong and Gary O'Kane from CITI pictured with Computing student, Catherine Hall and Moira McCarthy, Career


Hundreds of graduate job vacancies were on offer at the University of Ulster's Computing Fair hosted at the Magee campus.

Organised by the Career Development Centre, the event also provided information on postgraduate courses, volunteering and placement opportunities.

Employers from all over Ireland, including Microsoft Ireland, the new near shore company CME Technology Services, CITE Bank, New York Stock Exchange, BT, Liberty IT, Kofax, Kainos, Allstate, Price Waterhouse Cooper, SITA, Tascomi, and Automated Intelligence were offering opportunities to final year students.

Moira McCarthy, Career Development Manager at Magee, said: "With the current job market remaining depressed, the stark difference of a buoyant information communications market is very welcoming news.

"These companies are not just offering graduate jobs they are also offering paid placement/internships, sponsorship and bursaries to Magee computing students.

"The unique Ulster experience of blending research, theory and practical work experience is a success story with many computing students securing graduate jobs as a direct result of their placement experience.

"This is good news as around a third of this year's graduate vacancies will be filled by applicants who have already worked for the employer as an undergraduate."

Ben McLaughlin, Senior Director, Information Technology, Seagate, said: "We were delighted to meet with the Computer Science students from Magee. There is massive potential for individuals with computing skills in our unique nanotechnology environment.

"Internships are an essential part of our long-term strategy for attracting the best and brightest individuals who are talented in their field, technically curious and prepared to take on the challenge of working within a fast paced, leading edge organisation.

"Computing is one of the largest growth sectors in Northern Ireland, and has a key role to play in the Government's strategic vision to ensure that the UK is at the forefront of the global digital economy."
Rick Hassard, from software solutions company, Tascomi, added: "We found that the University of Ulster students at Magee students are very aware of how important it is to be employable."We had first year students asking about internships in the summer, as well as students seeking placement and graduate jobs.
"The majority of students were handing out their CVs and treating the conversations as a pre-interview."Combining this early understanding of what it takes to succeed with the knowledge they are gaining at the Magee campus allows us to be very optimistic about our industry within Northern Ireland."