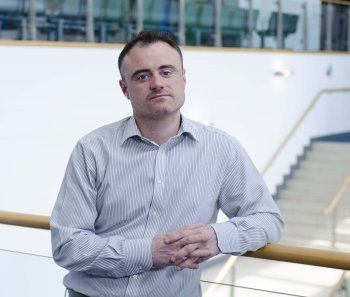 Dr Jonny Byrne from Ulster's Institute for Research in Social Sciences has been successful in his application to the Economic and Social Research Council (ESRC) Placement Fellowship Scheme.
The scheme provides an opportunity for academics to spend time within a partner organisation - in this case the Northern Ireland Office (NIO) - to undertake policy-relevant research and to develop the research skills of partner employees.
Dr Byrne will be based in Stormont House from the beginning of June 2013, for six months and will be working with the NIO on specific issues related to the challenges surrounding the building of a shared future including, education, housing, commemorations and celebrations, and dealing with past.
He will also be expected to provide ongoing consultation and advice on shared society issues, providing evidence-based policy advice to help UK Government ministers understand the issues better and help support the NI Executive in delivering a shared society.
"This is an opportunity to work alongside senior policy analysts and elected representatives on key social, economic and political issues impacting on the lives of people across Northern Ireland," said Dr Byrne.
"It is a fantastic award, but I would like to acknowledge the support of colleagues within the research institute for both supporting the application and also providing critical feedback in terms of its content."
Dr Byrne completed his PhD on the topic of peace walls and public policy under the supervision of Dr Cathy Gormley-Heenan and Dr Rachel Monaghan in September 2011 and took up the post of lecturer with the School of Criminology, Politics and Social Policy in the same month.
He currently lectures on policing, psychology and crime, as part of Ulster's criminology degree course. His research interests include culture and identity, public order policing, segregation and division, and interface violence.