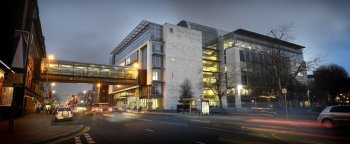 The inaugural Ulster Business Festival at the University of Ulster continues today with events at the University's Belfast and Jordanstown campuses.
At Belfast, distinguished consultant paediatric surgeon Mr Bill McCallion shares his insights into leadership gathered during his 25 year surgical career. He discusses the personality traits important in leaders, and reflects on his experiences.
Later, the campus plays host to a fast-paced series of presentations on 'Growing Your Business In The Digital Economy'. The event analyses hot topics including social media, search engine optimisation, digital advertising, adwords and web analytics.
In the afternoon, three workshops focus on 'Crossing Communication Barriers'. The workshops are designed to help businesses pick up tips on best practices and offer 'dos and don'ts' for communication with a variety of client groups, including foreign language markets in Europe and China as well as with clients using British Sign Language (BSL).
At Jordanstown, two key Festival events focus on employability issues. The first, called 'Managing Employability in a Changing Landscape', focuses on the exchange of best practice in employability, and explores how higher education can rise to the challenge of managing employability in the current economic climate.
In the evening the campus sees the Placement Employer of the Year Awards, at which the University recognises and celebrates the contribution of its business partners to graduate employability.
With over 2,000 Undertaking a work-based placement every year, Ulster is one of the top six providers of sandwich placements in the UK.