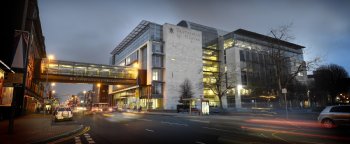 The inaugural Ulster Business Festival at the University of Ulster got under way this morning with a high-powered panel discussion on the challenges and opportunities facing the Northern Ireland business environment.
An audience of business experts, academics, politicians and students took part in a wide-ranging dialogue with panellists from business, the media and the ulster Business School.
Taking place at the University's York St campus in Belfast – set for a £250m expansion as part of the University's Greater Belfast Development plan – the discussion featured UTV Business Editor Jamie Delargy, MLAs Simon Hamilton and Phil Flanagan, Belfast Telegraph Business Editor David Elliott, plus Professor Jackie McCoy and Professor John Simpson of the Ulster Business School.
Later at the Belfast campus, a three-house conference on creating a sustainable built environment through education and collaboration was held, bringing together leaders from Translink, Lagan Construction, the NIHE, Eco-Energy (NI) and more to focus on the theme.
At Coleraine, an exciting entrepreneurship competition –Venture Causeway - is being launched. The project, organised by Causeway Enterprise Agency and supported by the University and Coleraine Borough Council – brings together 10 business champions in the Coleraine area who have each put up £10K to create a £100K pot of gold to fund new business start ups and business expansion in the Coleraine area.
At Jordanstown, analysts in the field of Connected Health joined academics and researchers to address the business opportunities offered to Northern Ireland in the area of healthcare technology.
Follow the conversation on Twitter: #UlsterBizFest