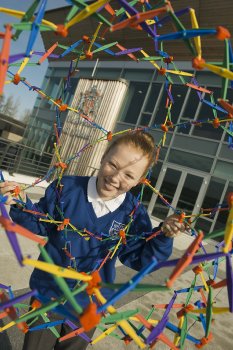 Over 1600 pupils from schools across Northern Ireland attended a series of science shows hosted by the University of Ulster at its Coleraine, Magee and Jordanstown campuses to celebrate 'Engineers Week Ireland'.
The science shows, which were part of a week long programme of events across the island of Ireland to celebrate the world of engineering, were completely booked out.
The University of Ulster offered theshows as a collaborative venture between the Faculty of Computing and Engineering and the Department of Access and Educational Partnerships and funded through the University of Ulster's Access Agreement.
The one-hour long 'Magical Science and Engineering Show' delivered by Dr James aimed to raise the educational aspirations of Key Stage 2 and 3 pupils.
Emzi Frater, Department of Access and Educational Partnerships said: "Dr James's show is highly interactive and makes great use of audience participation. It's really about stimulating an interest in STEM (Science Technology Engineering and Maths) subjects and raising the profile in particular of Engineering and Science for the young people involved."
Professor Millar, Dean of the Faculty of Computing and Engineering explained: "It is hoped that pupils will gain an understanding of the exciting challenges and amazing developments that engineers are involved with on a daily basis. It is intended that by engaging with pupils from a young age it will encourage the development of curiosity about science and engineering.
"Dr James' use of demos and displays emphasise where engineering can be seen in action in our everyday lives. His use of circus skills and scientific know-how make this show a real winner with school pupils."
Professor Millar continued: "Employment opportunities are excellent for Ulster's engineering graduates. Our engineering courses generally include a placement year in industry which means that Ulster graduates are ready for the workplace. Financially, starting salaries in engineering are amongst the best across all industry sectors."
Demand for well-qualified skilled graduates continues to outstrip supply. Ulster offers core engineering courses such as electronic, mechanical, mechatronic and engineering management as well as niche courses in growth sectors such as biomedical engineering, clean technology, technology with design and sports technology.
To support this growth in demand for well qualified engineers, the Faculty of Computing and Engineering will be extending engineering course provision for entry in 2013 to include MEng/ BEng Hons Renewable Energy Engineering and MEng/ BEng Hons Mechanical and Manufacturing Engineering at Magee campus," he added.
The University of Ulster organises other events with a STEM focus throughout each year as part of the university's 'Engaging Young Minds' and 'Engagement' programmes for primary and secondary schools respectively to raise aspirations for this in-demand subject area. Any schools who would like to be added to the mailing list for upcoming activities, please contact Emzi Frater, Department of Access and Educational Partnerships by email e.frater@ulster.ac.uk
Caption: Leah Millar from Harpur's Hill PS, one of the hundreds of aspiring young scientists to attend the Dr James Science shows hosted by the University of Ulster as part of 'Engineers' Week' Ireland