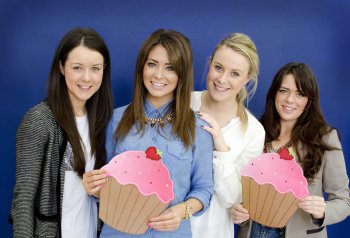 Winners of the Student Enterprise competition, Colleen O'Donnell, Emma Mullan, Shaunagh Devlin, and Karen Wray
A team of entrepreneurial University of Ulster students have won an innovative competition designed to create the business leaders of the future.
Organised by the University of Ulster Students' Union, the Enterprise Project invited students to pitch for the chance to run their own pop-up shop on campusfor a day.
Colleen O'Donnell, Emma Mullan, Shaunagh Devlin and Karen Wrayscooped nearly £2,000 in prize money after winning 'The Apprentice' stylecontest.
Their cupcake business generated over £800 in profits after one day's trading at Jordanstown beating stiff competitionfrom rival teams.
The students were supported in their new business venture by mentors from the university's Office of Innovation and also took part in workshops delivered by local entrepreneurs.
Professor Deirdre Heenan, ProVice Chancellor for Communication, said:"The University of Ulster puts employability at the heart of its student experience.
"ThisEnterprise Project is an excellent opportunity to help students gainthenecessary business skills that they will needto compete in today'shighly competitive market place."
Claire Flannagan, Students' Union President, added: "This initiative gives our students a chance to put their entrepreneurial skills to the test. It gives them an idea of what it is really like to start up a business of their own and in terms ofenhancingemployability, its look great on their CV."
Speaking at the Student Enterprise Awards Ceremony, hosted at the Belfast campus,Karen Wray, a member of the winning team, said:"We are thrilled to have won the Enterprise Project.We worked so hard on our pricing strategy and branding, as well as making and icing 1000 cupcakes.
"I have learnt so much from this projectsuch as time management skills,how to be creative with a small budget and negotiating with other local businesses."
http://www.youtube.com/watch?v=CYrZ4JKJ1P0