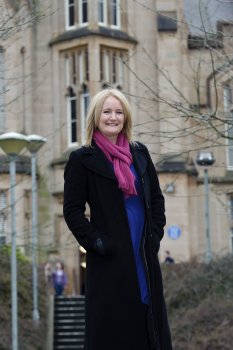 Dr Sharon Brady
A University of Ulster lecturer has fought off strong competition to win a top award for her research into Personality Disorders.
Dr Sharon Brady, from the Bamford Centre for Mental Health and Wellbeing at Magee, scooped the prize for 'Best Presentation from a Junior Scientist' at the British-Irish Group for the Study of Personality Disorders' Annual Conference.
BIGSPD was formed in 2000 to provide a forum for academic activity and professional networking in the field of personality disorder.
This year's conference, which was hosted in Northern Ireland for the first time, aimed to collate the latest evidence with respect to the diagnosis and treatment of the personality disorders.
Dr Brady's research, which is the first of its kind, uses advanced techniques to compare Borderline Personality Disorder and Anti-Social Personality Disorder with proposed personality traits in the general population.
She said: "Examining the symptoms of personality disorder in the general population is a useful way of establishing if these disorders are discrete clinical entities or personality traits that are present in differing levels among most people, and how they manifest. New psychiatric guidelines on these disorders are being established and I am delighted that my research has been received so well by my peers at this time."
Professor Gerry Leavey, Director of the Bamford Centre for Mental Health and Wellbeing, said: "This is a tremendous achievement for Sharon who presented her research among leading academics in the area of Personality Disorders from all over the UK and Ireland.
"Her success is a reflection of the high quality of mental health research and teaching at Magee. The work carried out at the Bamford Centre will help shape government policies and provides a wealth of statistics and data that influence therapeutic approaches and a continuous worldwide debate on mental health issues."