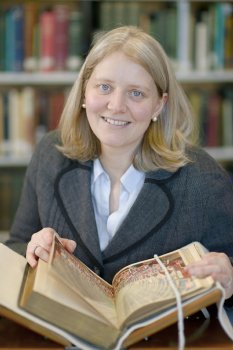 Dr Elizabeth Crooke, who plays a key role in influencing museum practice in Northern Ireland, has been appointed Professor of Heritage and Museum Studies in the School of Creative Arts and Technologies.
Professor Crooke has built a distinguished career as a respected researcher, author and teacher and her promotion to the rank of professor recognises her contribution to her academic field.
Her research explores the impact of museums and their collections, including a focus on policy development. She has published widely in these areas and has attracted support for a range of projects funded by Arts and Humanities Research Council (AHRC).
She is currently working on the area of museums, community and biography, a project which explores museums as a place to represent personal stories. This project has included interviewing families who donated artefacts to the Free Derry Museum.
Professor Crooke was recently invited to join colleagues from the Heritage Lottery Fund and the Northern Ireland Tourist Board on an advisory group for the Apprentice Boys Siege Heroes Museum Project. She is a member of theAHRC Peer Review College and is serving her second term as a Director for Northern Ireland Museums Council. She is Director of the Irish Museums' Association, sits on the Advisory Committee for the Museum Standards Programme (Ireland), and is involved with various local museum and exhibition projects.
Professor Crooke studied Geography and Economics at Trinity College Dublin and completed both her Masters and Doctorate at Cambridge University. On completion of her PhD she became Lecturer in Museum Studies at the University of Leicester.
On joining the University of Ulster in 2001 she developed thePGD/MA in Cultural Heritage and Museum Studies. Later, in consultation with the Heritage Council (Ireland), she created the PGD/MA MuseumPractice and Management, a distance learning postgraduate programme tailored for people already working in the museum sector or aspiring to do so.
Professor Crooke said that despite the uncertainty in the UK economic climate, the museum and heritage sectors in Northern Ireland have a bright future with growing employment opportunities.
"Tourism is a key driver of the Northern Ireland economy and good museums provide a memorable tourist experience. They also have an important social role with museums increasingly recognised as valuable for the wellbeing of society.
"There are examples of innovative practice within the museum sector in Northern Ireland, and these need to be nurtured, with the greater use of technologies and other forms of communication, to have an even bigger impact" she explained.
Professor Crooke continued that she felt there is scope for different kinds of museums but stressed that to be sustainable they must be embedded in the local community.
"Museums can encourage us to explore the complexity of history and its cultural significance, which is very important for a shared future," she added.
A native of Fermanagh – where she worked in Fermanagh County Museum and for the National Trust – Professor Crooke now lives in Derry~Londonderry with her husband and three young children.
Professor Crooke said: "It is a very interesting time to be working in the heritage and museum sector and I am really looking forward to the challenge of contributing to the exciting developments in the School of Arts and Creative Technologies at Magee. This appointment will enable me to continue to develop my research and practice in this area."
Caption: Professor Elizabeth Crooke, Professor of Heritage and Museum Studies at the University of Ulster