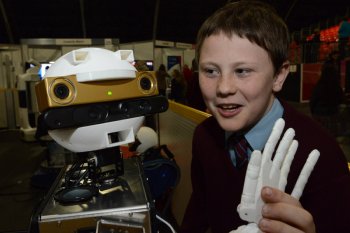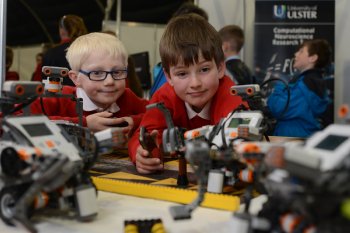 Pioneering research at the Intelligent Systems Research Centre (ISRC) at the University of Ulster's Magee campus is turning once futuristic concepts into practical realities, with benefits in healthcare, education, industry and leisure.

A two day Science Festival hosted by the ISRC at 'The Venue 2013' – the new £4.6m centerpiece arena for Derry~Londonderry City of Culture events – has lifted the lid on some of the ongoing intelligent systems research projects at Magee.

Hundreds of people of all ages attended the opening day of the Science Festival, organised as part of the Intelligent Systems Summit 2013 which is hosted by the ISRC in association with the Sunday Business Post.

Peter Devine, Head of Business Development at ISRC said the festival was to give people an opportunity to see for themselves the practical application of some of the Magee based research into Intelligent Systems.

"Intelligent Systemsare becoming more and more pervasive and are impacting across many sectors -everything from healthcare innovations, intelligent energy systems, manufacturing industries, cognitive robotics and high performance computing," he said.

"The Science Festival is an interactive and fun event to showcase the ISRC's cutting edge research. It is also an opportunity for people to get to talk to the researchers and learn a bit more about their work.

"We aim to inspire, school kids, college students and the general public to get interested in STEM subjects (Science, Technology Engineering and Maths) and to examine the challenges and opportunities that lie ahead through practical demonstrations including robotics, self parking cars, consumer electronics, virtual worlds, smart vision, intelligent mobile apps and brain science.

"The IRSC is a world class research facility located right in the heart of the city. The Science Festival is an ideal opportunity to let people know about the calibre of research that is going on right on their door step. It is something worth shouting about, and the city should be proud of it."

Captions
Ten years old Oran Healey from St. John's PS n Derry meets Robbie the Robot at the ISRC's Science Festival.
James Douglas and Adam Campbell from Drumahoe Primary School take control of the Lego Robots when they visited the ISRC Science Festival.