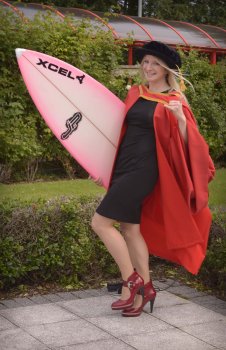 The social value of small scale fisheries to the local economy and the impacts of policy change on their livelihoods are poorly understood or considered in fisheries policy, according to University of Ulster research.
The research, which highlights social cohesion and mental wellbeing in fishing communities and households as priorities for policy makers, was carried out by Easkey Britton from Rossnowlagh in County Donegal, who this week was awarded a PhD at the University's summer graduation ceremonies at Coleraine.
Easkey explained:
"Similar to those in other parts of the world, small-scale fishers in Europe face many challenges, like market competition, fisheries decline and increasing competition for access to marine resources. Despite their numbers, small-scale fisheries have tended to get relatively little attention in fishery management debates.

"The new Common Fisheries Policy (CFP), which is still under negotiation and expected to enter into force in 2014, is likely to introduce specific new measures for small-scale fisheries. That raises challenges: is there appropriate knowledge on small-scale fisheries and what governance arrangements would best achieve the policy goals?"
The sea has always figured prominently in Easkey's life and although she is now making waves in academic circles, she is much better known as one of Ireland's top female surfers.
Born into Ireland's first surfing family, Easkey is even named after her parents' favourite wave – which takes its meaning from the Irish for 'fish'. She has a hugely impressive list of surfing accomplishments under her belt including: five times Irish National Champion; International Billabong XXL Big Wave finalist (Women's Performance of the Year Award), 2011; three times IntervarsitiesChampion; former British Universities champion and Women's British Pro Tour champion.
She has also scored a number of notable firsts: the first woman to score a perfect 10 at the Irish National Championships; the first woman to surf Ireland's most famous big wave, Aill na Searrach; the first woman to surf in Iran and she is now to feature in 'Waves of Freedom', a documentary on engaging women in sport in Iran.
Easkey admits that her whole life has been shaped by the sea.
"Surfing is my greatest passion in life and has given me my drive and focus. The biggest lessons in life I've learnt have been through surfing or from being able to experience life through that lens. It's mind opening, healing, energising and both inspiring and humbling."
She is now working as a post-doctoral research fellow on 'Too Big to Ignore', a global research project on sustainable fisheries led by the Memorial University of Newfoundland and is currently based in the Centre for Maritime Research in Amsterdam (MARE).
Not surprisingly Easkey, who has taken on a new role as Clean Coasts Ambassador for Ireland, 2013, says one of her biggest challenges is finding the time to fit everything in.
Amsterdam and its environs are not renowned for surfing but Easkey says the ultimate place for her to unwind is still the sea.
"Whether you're after a 20 foot wave or just happy to be in a 2 foot whitewash, the feeling you are searching for is the same. It's that buzz you get from simply being in the ocean."