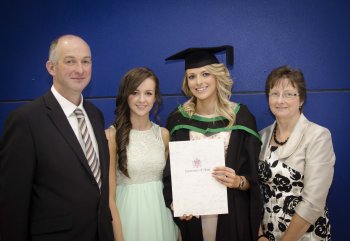 As part of her University of Ulster degree, Rachel McConnell, who today graduates with a first class BSc Hons Consumer Studies, spent a year working for Cancer Focus Northern Ireland.
This involved the Kilkeel woman going undercover to test the validity of new regulations regarding the age of sunbed users and frequency of use.
"I chose consumer studies due to the broad and varied nature of the course," said Rachel. "I had an interest in food and nutrition, health promotion and the business aspects that were included in the programme of study.

"I wanted to progress into education - more specifically to teach home economics in secondary schools - and this course offered lots of opportunities, such as the option of a placement year and the completion of the Step Up tutoring in schools programme.

"A particular highlight of my course was the opportunity to gain experience with Cancer Focus Northern Ireland where I spent a year as Student Health Promotion Assistant in the Cancer Prevention Department and worked in schools, hospitals, youth clubs and community centres.

"The experience was both invaluable and unforgettable. I was able to work with children and adults of all ages and abilities in many settings and gained a huge insight into the world of health promotion and teaching individuals of all ages and abilities.

"I was also able to base my final year research paper around the information learned in this setting.

"Along with the guidance and support of my research paper supervisor, Dr Amy Burns, I undertook an engaging, original and timely topic - the usage of sunbeds amongst consumers in Northern Ireland."
This involved Rachel, posing as a customer and visiting tanning salons across the province. Shockingly, she found that 90% of tanning salons failed to meet the standards required.
"Using the resources and information that were made available to me during placement year, I was able to conduct a questionnaire, form a focus group and investigate compliance rates to the Sunbeds Act (2011) by providers," explained Rachel.

"The research resulted in many interesting and shocking outcomes regarding frequency of usage, the age of users, the reasons for this and small scale compliance rates statistics.

"The findings and recommendations from my research have been passed on to Cancer Focus Northern Ireland and the Sunbeds Working subgroup and it is hoped that it will be of benefit and aid in the quest to reduce sunbed usage and the incidence of skin cancer diagnosis."
Rachel's thesis has been entered into the All-Ireland Undergraduate Awards. She has also achieved a Diploma in Industrial Studies, for her placement year.
Added Rachel:
"I have thoroughly enjoyed my course and the guidance and assistance provided by tutors was of the highest calibre.

"I recently learned that I have gained a place on the PGCE Post Primary Home Economics programme within the University of Ulster and am extremely excited about beginning this next chapter in my education."