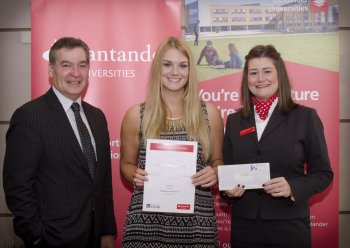 Top University of Ulster language students have been presented with scholarships from Santander Universities Network at the Jordanstown campus.
Students of Spanish from the School of Modern Languages, which is based at the Coleraine campus, received two sets of awards.
The Santander Study Abroad Scholarships were presented to students who achieved the highest overall class average in their Spanish modules in year 2.
The winners were - Denise Brown, Philip Crookes, Michael Fitzpatrick, Jacqui Montgomery and Katie Wallace.
They will spend one semester of their third year (academic year 2013/14) studying in an ERASMUS partner university in Spain.
Recipients of the Santander Summer Study Abroad Scholarships were first year students who are learning Spanish from beginners' level.
The award will fund an intensive summer course in Spanish at the University of Granada in the south of Spain in August and early September 2013.
The three winning students – David Martin, Lauren O'Hagan, and Louise Robinson - achieved the highest overall class average in their Spanish modules in year 1.
Head of School of Modern Languages, Dr David Barr, said: "We are delighted that Santander Universities provides these very generous scholarships for our Spanish students.
"Around 90% of students in the School undertake a placement overseas, either studying in a university or working as an English language assistant and funding from these scholarships helps to ensure the popularity of this vital component of studying a foreign language, namely the ability to live and study or work in country of that language."
Santander representative, Laura McDonald, said: "Santander Universities began its activity in Spain in 1997 with one main objective - to support higher education. Throughout these years we have donated over £500 million in the shape of scholarships, travel grants and support to special projects.
"The University of Ulster joined the Santander Universities UK network in 2011 and since then our partnership has gone from strength to strength.
"Promotion of international mobility and giving students the possibility to travel abroad to continue their studies is high on our agenda and so I am delighted to be here today to present the awards to our scholars and look forward to hearing from them in the near future on how the money has positively impacted on this part of their academic life."
The University of Ulster is a member of the prestigious Santander Universities Network Global Division, which has over 1000 partner institutions in 20 countries.