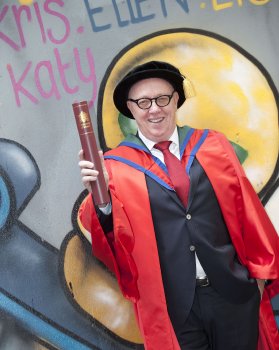 Leading international film-maker Terry George will today receive the honorarydegree of Doctor of Letters (DLitt) from the University of Ulster in recognitionof his services to Northern Ireland film.
A native of Belfast, Oscar-winning film-maker Terry George is arguably Northern Ireland's most successful film industry figure.
His film career blossomed when he moved to the USA in 1981, after a turbulent youth which included a spell in the Maze prison.
Terry George's credits as a writer and director include Whole Lotta Sole (2011) The Shore (2001), Reservation Road (2007), Hotel Rwanda (2004),
Some Mother's Son (1996) and In the Name of the Father (1993).He is an enthusiastic supporter of Northern Ireland's burgeoning film industry.
His recent short film The Shore (2011), starring Ciaran Hinds and Conleth Hill, was set in the tiny Co Down fishing village of Killough. The film won anAcademy Award for Best Live Action Short Film.