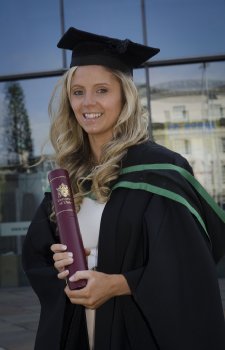 A University of Ulster student named 'Young Coach of the Year 2013' by British Gymnastics NI, the sports governing body, graduates today.
Darcy McClean, who has secured full-time work in the competitive world of gymnastic coaching, will receive a BSc Hons in Sports Studies at the Waterfront Hall ceremony.
Her new employer, Abbey Gymnastics Club and University of Ulster lecturer, Sinead Connolly, nominated the Carrickfergus student for the prestigious award earlier this year.
She said:
"I was really chuffed to win this award. My nomination form was read out at the presentation ceremony and it was lovely to hear praise from my peers, especially things like, how the kids love being coached by me."
Darcy joined classes at Abbey Gymnastics Club, based in north Belfast, aged 11 and then began coaching there a few years later at just 14-years-old.
She said:
"I enjoy coaching all ages but I particularly like working with younger children. In our club, members range in age from five to 15-years-old."
Darcy spent her placement year at Abbey Gymnastics and she believes this helped her secure a full-time post.
She said:
"My placement year was brilliant, I knew after working there that coaching was what I wanted to do full-time. The placement also gave my employers an opportunity to know my work and when a job came up recently I applied and was successful.

"Having a degree also helped me to find work as this can be a difficult field to break into. I found the sports coaching module on the course particularly interesting and I had the added bonus of working in the University gymnastics club, GymFun, which I thoroughly enjoyed."