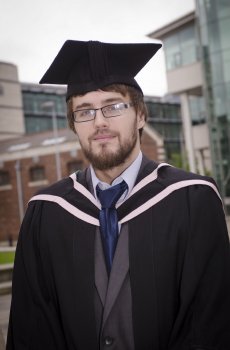 University of Ulster student, Conor Rocks is one of the first people in the UK or Ireland to graduate with a degree in Clean Technology.
Conor (22) from Dunmurry was awarded a BEng Hons at the University's summer graduation ceremonies in Belfast's Waterfront Hall today. He now plans to return to Jordanstown in the autumn to pursue his doctorate studies.
In 2009 Ulster was the first university in the UK or Ireland to offer a dedicated Clean Technology BEng Hons and Conor was among the first intake of students on the new course.
A past pupil of St Mary's College, Glen Road in Belfast, Conor is a keen sportsman. He plays football, hurling and handball for O'Donovan Rossa GAC and admitted that he had initially thought about studying Physiotherapy or Sports Science at university.
"I did Computing, Maths and Sports Studies for A level which kept my career choices open but opted for the Clean Technology degree because I thought my job prospects after graduating would be better."
The four-year course is based in the School of Engineering at Jordanstown. Course director, Professor Tony Byrne explained that Clean Technology is the term used to describe knowledge-based products or services that improve operational performance, productivity or efficiency, while reducing costs, inputs, energy consumption, waste or pollution.
"The Clean Technology industry is attracting billions of dollars of investment and carries the hopes of a low-polluting and sustainable future. We will need engineers with the necessary knowledge and skills to support and develop this high-tech knowledge based industry."
Congratulating Conor on his success, Professor Byrne added:
"Global issues like climate, demand and supply of fossil fuels and access to clean water demand innovative solutions.

"This course focuses on advanced materials and nanotechnology and developing making new materials that are smarter, stronger, lighter and cheaper to support developments in clean technology.


"The BEng degree in Clean Technology is a great example of how research and teaching can be integrated in order to develop the global engineers of the future.

"Graduates today are more astute in relation to the global situation and want to be empowered with the skills to make a difference for a sustainable future."