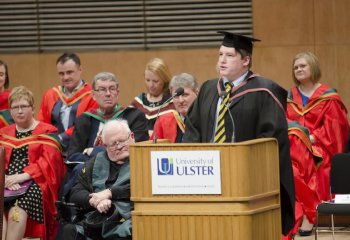 Earlier this year, University of Ulster student Duncan McGregor beat more than 5,500 undergraduates from across Ireland to be crowned the 2013 gradireland National Student Challenge winner.
And today, as well as graduating with an LLB (single Hons law), Duncan will receive the Convocation Student of the Year award in recognition of his gradireland achievement and also his extra-curricular voluntary work.
He will also be making the student's speech at this afternoon's graduation ceremony in the Waterfront Hall, Belfast.
The Newtownards man said he was "gobsmacked" when it was announced that he was the overall gradireland winner – the first time for a University of Ulster law student.
He had travelled to University College, Dublin on March 12, for the final day of the competition, where he was one of 80 students from across Ireland, competing for the overall prize.
"I honestly thought I didn't have a chance. I was only told that I was through to the final on the Thursday before, so there wasn't much time to prepare," said Duncan.
During the course of a long day, the finalists faced tasks set by gradireland in collaboration with PwC, Microsoft, EMC, SAP, Ernst & Young, Lidl and Telefonica, with the help of Irish psychometric testing company, cut-e.
All were designed to testkey employability skills such as innovation, commercial competency, mental agility and teamwork.
Duncan added: "It was an unbelievable day and a brilliant experience and despite everyone being in competition, there was great camaraderie.
"Winning aside, the challenges set by the employers were great fun to do and after the competition was over, we were able to chat to all of the companies who had taken part, so it was great for making new contacts.
"One of the most important things I learned was that interviews are now almost obsolete when companies are recruiting graduates.
"The tests I took part in during the challenge were lifted straight from graduate recruitment days and it's these sort of tests that graduates will face in company assessment centres.
"Entering the competition was an incredibly worthwhile experience and I would encourage all University of Ulster students to take part next year."