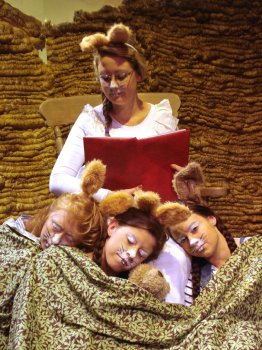 University of Ulster Drama students are set to perform a unique piece of children's theatre which they have written, designed and produced.
Taking place next week at The Box, Portstewart, 'Flop the Bunny's Restless Night', is aimed at four to seven year olds and is set in a warren where the rabbits tell the children bedtime stories.
The project is being undertaken by 16 second-year Drama students, who are based at the university's Magee campus. There is also an important educational outreach element to the production.
Drama student Ãimear Hart explained:
"This will be a fully immersive experience for the children who will watch the performance from within the set and who will be able to interact with the characters.

"The school children will also have the opportunity to take part in a workshop after watching the play which will be based on the characters and stories they will have seen.

"The activities within the workshop have been based on the language and literacy section of the Northern Ireland curriculum."
Dr Tom Maguire, Senior Lecturer in Drama Studies, added:
"Writing, designing and producing this performance has been a tremendous achievement for these students and will help prepare them for working within the industry when they graduate.

"They have really embraced this project and have put a lot of hard work and dedication into ensuring that the performance will be entertaining as well as being educational for the children who will come to see it next week.
'Flop the Bunny's Restless Night' will take place in Big Telly Theatre Company's space, 'The Box', in Portstewart.
Performances for school groups will take place on Thursday 24 and Friday 25 January with additional performances taking place on Saturday 26 January at 11am and 1pm for the general public.
The performance is free of charge, but booking is essential due to a limited capacity. For further details please contact Ãimear Hart on: 07763757198.