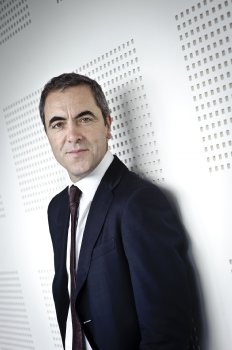 Derry~Londonderry's year as UK City of Culture offers a fantastic opportunity to create vivid memories of excitement and artistic endeavour for young people, and will provide a base for the development of social and cultural life, according to James Nesbitt, Chancellor of the University of Ulster.
The Chancellor was speaking at the opening of the MeCCSA 2013 media studies conference at the University of Ulster's Magee campus, which is bringing leading media analysts and commentators from the UK, Ireland and beyond to the city this week.

The title of the conference is 'Spaces and Places of Culture' and the theme will be explored across the three days of the conference in diverse ways, linking media and cultural forms to both real and virtual spaces of universal significance with a very definite local resonance.
Chancellor Nesbitt said:
"The University of Ulster takes pride in hosting this conference. This University was a pioneer in the field of media studies, having established the first degree course in 1978.

Since then, media studies has continued to be one of the most successful subjects in our Faculty of Arts, heeling us build strong relationships with the media industries. Our degree programmes are recognised by industry training bodies as being among the best available."
He told his audience the University was also proud to play an important role in the fantastic programme for the City of Culture year.
"We are involved in many ways and at many levels and, of course, next month at the Magee campus, the University will award an honorary doctorate to the legendary actor, Sir Ian McKellen, who will also deliver the annual Chancellor's lecture."
Concluding, Chancellor Nesbitt said:
"In a town so steeped in music, in song, in dance, in theatre and in the written word I think it would be appropriate for me to leave with you with a thought from one of the city's two Nobel laureates, both of them educated up the road at the College in Bishop Street.

"That famed man of letters, Seamus Heaney once said of poetry 'I can't think of a case where poems changed the world, but what they do is they change people's understanding of what's going on in the world.'

"Let us, through culture, continue to change people's understanding of what is going on in the world."
Later, Dr Nesbitt took part in a panel discussion on Regional Film & Television Cultures, held at The Playhouse.