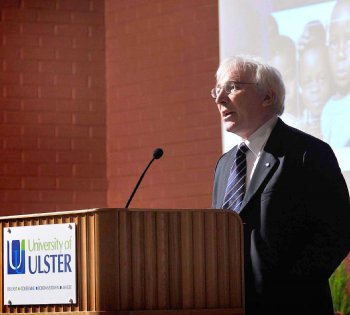 University of Ulster research excellence in the area ofeducation, conflict and international development has been recognised byUNESCO.
The UNESCO Chair in Education for Pluralism, Human Rights and Democracy – the only UNESCO Chair in Northern Ireland – held by Professor Alan Smith in the School of Education on the university's Coleraine campus, has been renewed.
Welcoming the news, Professor Smith said it was a strong and welcome endorsement of Ulster's UNESCO team and its work over the past decade and plans for the coming years.
"As part of the UNESCO international education network, we act as bridge builders, establishing dynamic links between the academic world, civil society, local communities and policy makers."
He continued: "We are delighted that our work has been recognised and praised by UNESCO, particularly, our work in engaging youth from around the world in helping to plan education systems to help young people reach their full potential and help to guarantee their human rights."
Professor Smith said that the UNESCO team at Coleraine provide a unique resource dedicated to bringing forward research solutions to some of the biggest challenges facing both Northern Ireland and the international community.
"We are clear that education, in Northern Ireland and in societies emerging from conflict around the world, is the key to unlocking the potential, not only of our young people, but of everyone in society, not only in an economic sense, but also in a cultural and societal sense. We look forward to continuing this work over the next four years."
The focus of Professor Smith's work in the past year has been onfurther development of research related to education, conflict and international development. His research, in collaboration with UNICEF, has been widely published and presented at international conferences in Italy, Belgium, Sierra Leone, Bosnia, Nepal and Sri Lanka.
Established formally in 1999 the UNESCO Chair at Coleraine has a programme of work in Education for Pluralism, Human Rights and Democracy. The key themes of its work areChildren and Youth,Education and Conflictand International Development
Caption: Professor Alan Smith