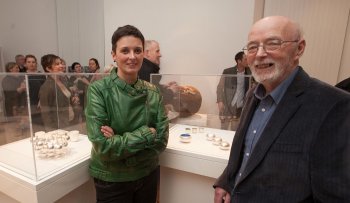 Leading silversmith and University of Ulster academic Cara Murphy and her dad Michael McCrory – also a renowned silversmith – are pictured with their work at the opening of the Future Beauty? exhibition in the National Craft Gallery, Kilkenny.
Cara, an Associate Lecturer in Silversmithing and Jewellery at Ulster, is a Freeman of the Worshipful Company of Goldsmiths and showcases her silverware internationally, mainly working to commission.
She applies traditional silversmithing techniques to create innovative and sculptural functional tableware.
The Kilkenny exhibition, which runs until March 13, shows every day and extraordinary objects – pots, jewels, sculpture and furniture – designed and made during the past year in 26 studios throughout Ireland.
For more information on the exhibition contact www.nationalcraftgallery.ie