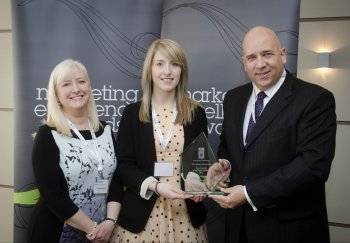 Marketing students who achieved academic success while studying at the University of Ulster have been recognised at an awards ceremony this week.
The Department of Marketing, Entrepreneurship and Strategy's Marketing Excellence Awards, sponsored by local companies, celebrates the hard work and dedication of marketeers from Ulster's class of 2011/2012.
At the annual Awards ceremony in the Jordanstown campus, Associate Head of Department, Dr Danielle McCartan-Quinn congratulated students on their success.
She said: "The annual Marketing Excellence Awards ceremony affords the Ulster Business School a rare opportunity to bring together our generous sponsors from industry, students, their families and colleagues who have encouraged and challenged these students to produce their best work throughout their course.
"The event is a great networking opportunity and a really joyous occasion - providing a lasting testimony to the students of their outstanding academic achievement while at the Ulster Business School."
Linda Hilditch from Ballymoney (pictured), who was awarded Best Overall Final Year Student, is currently on a graduate training scheme at PwC.
She said: "During the marketing course we studied and completed projects that were relevant to the working world. I feel this degree has set me up well for my future career.
"The lecturers were engaging, creative and supportive throughout my time at university. The modules were interesting and varied which allowed us to shape our own experience through the modules we chose.
"In September I started on a graduate scheme in consulting at PwC. I hope to keep my career linked to marketing as it was something I really enjoyed studying."
The nine winning students were:
Marketing Institute of Ireland Award for Excellence
BSc (Hons) Marketing
Best Overall Final Year Student, Linda Hilditch
Chartered Institute of Marketing Award for Excellence
BSc (Hons) Marketing
Best Student Performance in Global Marketing, Linda Hilditch and Laura Blair
Property News Award for Excellence
BSc (Hons) Marketing
Best Overall Digital Marketing Student, Thomas McCready, Christopher McConville, Stewart McCormack, Mark Adamson and Connor McCloy
Hastings Hotels Award for Excellence
BSc (Hons) Marketing
Best Overall Second Year Student, Jenny Robinson
Stakeholder Group Award for Excellence
BSc (Hons) Marketing
Best Overall First Year Student, Christopher Shannon
Envision Management Consultants Award for Excellence
MSc Marketing
Best Dissertation, Rodney Saunderson
Wrightbus Award for Excellence
MSc Marketing
Best Overall Final Year Student, Rodney Saunderson
Moy Park Award for Excellence
PgD/MSc Agri-food Business Development
Best Overall Performance, Jason Mervyn Hempton
Rutledge Recruitment and Training Award for Excellence
BSc (Hons) Business Studies Part Time
Best Final Year Student, Roisin O'Neill