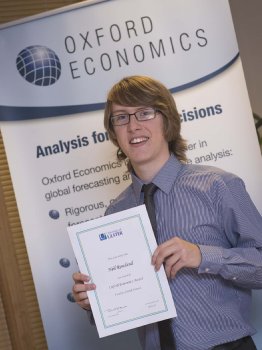 BSc Economics graduate Neil Rowland from Banbridge is the recipient of the inaugural Best Student Award from leading global forecasting and quantitative analysis company Oxford Economics.
Neil (22) scored top overall average in the final year of all economics courses (economics, economics major and business economics) at the University of Ulster.
Said Neil: "I am thrilled to have won the prize for best overall student on my course. It is reassuring to know that high-profile, global companies such as Oxford Economics take a genuine interest in helping students and I am sincerely grateful to receive the generous prize of £250."
BSc Economics Course director, Gillian McCallion, added: "Neil has consistently been top of his class throughout his three years at Ulster. Heis a conscientious student who is committed to pursuing a career in economics.
"University of Ulster has had a mutually beneficial relationship with Oxford Economics over a number of years in terms of graduate employment, placement opportunities and research links, particularly in relation to the analysis and understanding of the Northern Ireland economy.
"At present five members of Oxford Economics (NI) are Ulster graduates. There are also currently two placement students from Ulster with the company.
"Although there is generally a high level of achievement by all students across the economics family of courses, the introduction of this annual award, gives students that extra incentive to perform even better."
Neil is full of praise for the University of Ulster's economics degree programme.
"I really enjoyed the economics programme at the University of Ulster," he said. "I chose it over other universities because of its attractive features, such as the student placement and the opportunity to undertake independent research through a dissertation.
"The course lived up to my expectations and has motivated me, and given me the skills, to take my study of economics to graduate level."
Kerry Houston, Head of Regional Model Development, with Oxford Economics, said: "Developing a strong relationship with the University of Ulster is very important to us as we recruit two student placements each year, and currently employ a number of UU economics graduates in our Northern Ireland office."