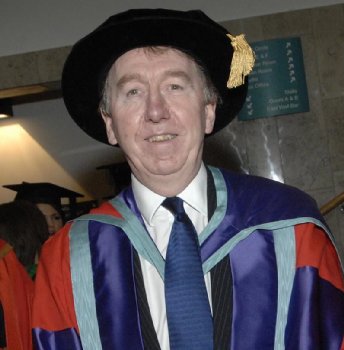 A University of Ulster academic has been appointed Principal Fellow of the Higher Education Academy (HEA).
Professor John Gillespie, from the School of Modern Languages, is the first person from Northern Ireland to be awarded the prestigious honour.
The HEA is a national, independent organisation which champions excellent teaching and learning in higher education.
It currently has 60 Principal Fellows, an accolade which is reserved for highly experienced academics who have demonstrated a sustained and effective record of impact at a strategic level in relation to teaching and learning.
The HEA's Fellowship recognition is designed around the UK Professional Standards Framework (UKPSF) that supports the initial and continuing professional development of staff engaged in teaching and supporting learning in higher education across the UK.
It provides a means to comprehensively benchmark, develop, recognise and reward teaching and learning support roles within Higher Education.
The University of Ulster's professional development scheme was accredited by the HEA earlier this year.
Professor Craig Mahoney, Chief Executive of the HEA said: "I am delighted that Professor Gillespie has become Northern Ireland's first Principal Fellow of the Higher Education Academy. This is particularly timely given the focus of Northern Ireland's Higher Education Strategy on the importance of teaching in delivering excellent student learning experiences.
"I hope this recognition will encourage others in Northern Ireland to apply for Fellowship at the level which best suits their current experience, and then work towards becoming a Senior or Principal Fellow as they gain experience."
Dr David Barr, Head of the School of Modern Languages at the University of Ulster added: "I wish to congratulate Professor Gillespie on this well-deserved accolade.
"As a pioneer in the area of computer-assisted language learning for over 20 years, the award of the PFHEA is excellent recognition of John's tireless commitment to teaching and learning and to research-informed teaching. It also underlines the reputation of the School in the area of teaching excellence".
Professor Gillespie said: "I am delighted to receive the recognition that the PFHEA represents. It underlines our commitment to excellence in teaching and learning, not only in the School, but also in the University as a whole."