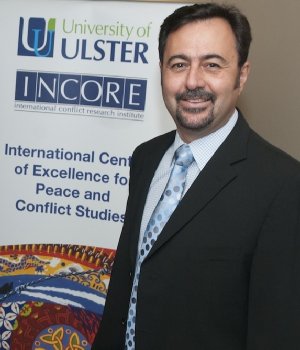 The failure to progress a sharing and integrated strategy in Northern Ireland is undermining the achievements of the Good Friday Agreement, a leading University of Ulster academic has warned.

Professor Brandon Hamber (pictured) , the director of the University of Ulster's international conflict resolution research centre INCORE, told a joint committee of MPs and TDs in Dublin that significant strides had been made since the Agreement was forged 15 years ago.

However the Magee-based academic cautioned, as recent events in Northern Ireland have shown, in the absence of any strategy to deliver the integration envisaged in the Good Friday Agreement, the political process was vulnerable to stresses.

Professor Hamber told the meeting of the Joint Committee on the Implementation of the Good Friday Agreement that we need to acknowledge the progress that has been made, violence has decreased and the institutions are functioning but segregation remains.

"What we do know is integrated schooling has not changed significantly. Although there have been advancements, they have not been dramatic.If you look at mixed marriages, for example, these types of factors have not changed dramatically.

"In numerous quarters, this has been put down to a lack of policy on how sharing and integration will take place…the whole spirit of integration as expressed in the Agreement has not yet been realised.

"Of course, policy does not determine practice but it does provide us with a yardstick for measurement and it helps us create a vision for action in terms of what might be needed".

Professor Hamber told the joint committee of TDs and MPs that other conflict resolution processes around the world had shown addressing underlying issues, including economic concerns and segregation, would provide stronger social cohesion and a greater guarantee of peace in the long term.

If underlying causes of conflict are not addressed, Professor Hamber said, "In the conflict field, we would talk about this as a negative peace. In other words, there is a context where political violence has decreased but a lot of the underlying issues that potentially can fuel violence still remain in place".

Specifically Professor Hamber called for an integrated strategy in Northern Ireland on dealing with sectarianism, flags, parades and dealing with the past, and a recommitment to the essence of the 1998 Agreement, which talks specifically about the importance of integration in schooling and housing as key to reconciliation.

Note to Editors:
INCORE (International Conflict Research Institute) is a joint University of Ulster and United Nations University project based on the Magee campus. It aims to address the causes and consequences of conflict in Northern Ireland and internationally while also promoting conflict resolution management and peace-building strategies.

Professor Hamber was giving evidence in Leinster House to the Joint Committee of the Implementation of the Good Friday Agreement alongside Peter Sheridan, Chief Executive, Co-operation Ireland and Neil Jarman, Director, Institute for Conflict Research.

The joint committee of TD and Northern Ireland MPs is chaired by Deputy Joe McHugh TD.