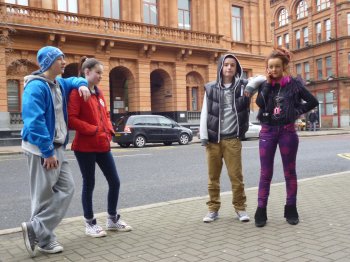 Photographs, poetry and prose from community groups across north Belfast are to take pride of place at a major celebration of the arts on the University of Ulster's Belfast campus this Friday.
The cross-community arts exhibition is just one of a series of Culture Night events being held on the campus and throughout the city of Belfast on September 21.
Work from members of Ardoyne Youth Club, Woodvale Community Centre, Duncairn Community Centre and Holy Family Primary School will all feature in 'Reflecting North Belfast – Words and Images', organised by the community organisation, Arts for All.
Based on York Road since 2000, the organisation has been the bedrock of community arts projects in north Belfast for 11 years.
Co-ordinator, Heather Floyd, said the contributors to the exhibition – whose ages range from 13 to 86 – have been given a confidence boost by having their work exhibited at Ulster.
"This is a great opportunity for participants to showcase their work at a high profile city centre venue and it is important that it is being held in the University of Ulster," she said.
"Being asked to exhibit in the Belfast campus sends out a clear message to all who have taken part. It shows that their work is good enough to be displayed in a centre of higher education.
"That is the beauty of a partnership between Culture Night and the University of Ulster.
"The University is only a mile down the road from us, yet many people in this community aren't connected to it. So events like this help to develop that connection and build bridges.
"We feel this is particularly important with the development of the new campus at York Street being in such close proximity."
The Provost of the Belfast campus and Pro Vice Chancellor Development, Professor Alastair Adair said: "The University is once again delighted to host a number of Culture Night events and encourage people to come onto our Belfast campus and be creative.
"The University has a proud record of achievement when it comes to community outreach – we are ranked six in the UK in terms of widening educational access in those communities that have tended to feel higher education is not for them.
"Culture Night is a particularly good example of how the University is saying to communities you are welcome on all of our campuses all year round. We want to showcase and celebrate your achievements as well as ours.
"And it is that kind of philosophy which is very much driving the University's plans for the new Belfast city centre campus which will be an open and accessible campus for all."
As well as the exhibition, visitors to the Belfast campus on Culture Night, which is now in its fourth year, will be able to enjoy films and workshops, theatre and street culture, visual arts and music and crafts and jewellery stands.
Culture Night Belfast Manager, Adam Turkington, said: "We have been working very successfully with the University of Ulster every year since Culture Night began and we like to utilise as much of the fantastic space as possible on the Belfast campus.
"It lends itself to creative enterprise and there is a young, lively vibe about the building which is why we bring on board organisations such as Arts for All, The Little Green Allotments, Cinemagic and Voluntary Arts Ireland."
Tim Kerr, Ulster's Development Manager (Arts and Culture) added: "Culture Night is a great opportunity for the Belfast campus to throw open its doors for an evening of creative revelry.
"As we are situated in the heart of the Cathedral Quarter, we will be a focal point for several of the evening's high-octane activities.
"Our campus in York Street is the University's home for art and design. The Culture Night programme is a perfect complement to the creativity that flows through its corridors."
Culture Night takes place on Friday from 4pm until 10pm with after parties continuing until late. For more information visit www.culturenightbelfast.com
Caption: (left to right) Fionntan (Ardoyne Youth Club), Chelsea (Woodvale Community Centre), Caoimhin (Ardoyne Youth Club) and Madison (also known as Molly, Woodvale Community Centre) pose for a picture in Belfast city centre taken by Community Artist Facilitator, Davy Holden