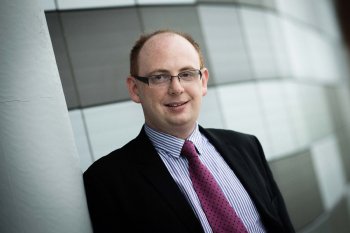 Dr David Barr, Head of the School of Modern Languages.
The University of Ulster has teamed up with language services company, Diversity NI, to help meet the increasing demand for high level interpreters and translators.
The venture will give MA Professional Translation students the opportunity to gain Diplomas in Public Service Interpreting and Translation from the Chartered Institute of Linguistics – an internationally recognised qualification for interpreters and translators worldwide.
Dr David Barr, Head of the School of Modern Languages, said: "This partnership is great news for University of Ulster language students, who will now be able to undertake the DipTrans and DPSI qualifications alongside their academic degree.
"It is also fantastic news for the economy as local interpreters and translators will have greater opportunity to up-skill their qualifications which will be beneficial when doing business with overseas organisations and companies.
"This news comes as the University strengthens its links with China through the Confucius Institute and this collaboration offers opportunities for Chinese students studying at Ulster to gain these internationally-recognised qualifications in translation and interpreting."
Paolina Hawthorne, Director of Diversity NI added: "We are delighted to be involved in this partnership with the University of Ulster. Over the next few years, changes in EU legislation means that the qualifications held by public sector interpreters and translators throughout Europe will need to be updated.
"This agreement with Ulster offers an important mechanism to provide postgraduate level interpreting and translation qualifications in Northern Ireland. The demand for high level interpreters and translators locally is increasing each year."
For further information on the University's MA Professional Translation, visit: http://prospectus.ulster.ac.uk/course/?id=10156