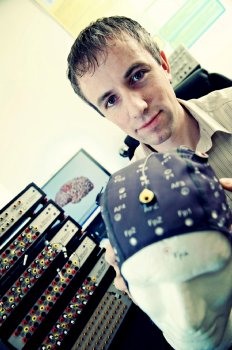 A University of Ulster academic has received a prestigious fellowship to research and develop advanced technology that can assist and rehabilitate the physically impaired.
Dr Damien Coyle, a lecturer at the Intelligent Systems Research Centre (ISRC) on the Magee campus, has been awarded a Royal Academy of Engineering/Leverhulme Trust Senior Research Fellowship.
The Fellowship will enable him to further investigate how the brain processes motor commands and brain signals associated with various types of movement to develop advanced brain-computer interface (BCI) based assistive technology.
Dr Coyle said: "It is a great honour for me to have received this Fellowship. I am delighted to have a real opportunity to engage in research that is of academic and practical relevance and could improve the quality of the lives of people who have a physical disability."
The IRSC at Magee is a major research unit within the Faculty of Computing and Engineering in the University of Ulster, which is dedicated to the creation of intelligent computational systems that take inspiration and learning from biology and neuroscience.
In addition to brain-computer interfacing and computational neuroscience R&D, research at the ISRC involves areas such as cognitive robotics, intelligent embedded systems, self-repairing hardware and software, wireless sensor networks, capital markets, serious games and virtual worlds, and intelligent multimedia.
Dr Coyle is a founding member of the Brain-Computer Interface and Assistive Technologies Research Team and the Computational Neuroscience Research Team at the ISRC. He previously held a postdoctoral research position at Ulster and is an Ulster graduate and PhD graduate.
His research interests are focused primarily in the areas of brain-computer interfaces, computational intelligence, computational neuroscience, neuroimaging and biomedical signal processing.
He has received a number of accolades for his research including three University awards for his PhD work and the IEEE Computational Intelligence Society's Outstanding Doctoral Dissertation Award in 2008.
Last year, he received the International Neural Network Society's Young Investigator of the Year Award and was awarded the University of Ulster's Distinguished Research Fellowship. He is a senior member of the Institute of the Electrical and Electronic Engineer (IEEE).
Dr Coyle has also been awarded funding from a number of prestigious funding bodies to support his research including the UK's Engineering and Physical Science Research Council (EPSRC) and the Department of Education Northern Ireland (DENI) and he chairs the UK and Republic of Ireland Chapter of the IEEE Computational Intelligence Society.
The Senior Research Fellowship has a value of £43,453 over 12 months. The Award supports recruitment of a junior lecturer, who will take over Dr Coyle's teaching and administration commitments for one year, allowing him to focus on research and development.
The Royal Academy of Engineering is Britain's national academy for engineering, bringing together the country's most eminent engineers from all disciplines to promote excellence in the science, art and practice of engineering. With annual funding of some £40 million, the Leverhulme Trust is among the largest all-subject providers of research funding in the UK.
Ends
Caption: Dr Damien Coyle.