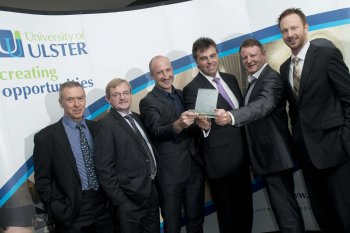 Innovative research at the University of Ulster has helped a leading labels manufacturer in Derry~Londonderry reinvent itself and target new markets ahead of its competition.
The successful partnership with Nuprint Technologies was recognised at the annual KTP Awards hosted by the University of Ulster at the City Hotel in Derry last night (Thursday).
Awards were presented to 34 businesses in Northern Ireland that have successfully completed a Knowledge Transfer Partnership (KTP) within the previous year.
The KTP initiative – Knowledge Transfer Partnership – allows organisations in the private, public and community sectors utilise resources and knowledge available within universities and apply them to their own business environment.
Nuprint's Managing Director Gavin Killeen was "delighted" to win the award.
"By introducing new technologies and printing processes, we have created new opportunities for our clients. We understand that labels do much more then just name things – they can track stock, control warehousing, improve security and communicate a brand personality that consumers can believe and trust in.
"Working with the University of Ulster has made a huge difference to our company, giving us the confidence to innovate and go after new markets.
"This is our third KTP. We understand the importance of involving academics in the development and growth of our business. The skills that are needed in order for NI companies to compete on a global scale do not always reside within our companies and for this reason we have found working on the KTP programme invaluable."
Pro Vice Chancellor of Research and Innovation, Professor Hugh McKenna said: "KTPs have been hugely successful in Northern Ireland both for universities and businesses and we are very proud of the University of Ulster's record in this regard.
"Not only is this kind of collaboration academically valid but it can significantly improve a company's profitability in what is an increasingly competitive global marketplace.
"This year we can build on this success with a £13 million government funding package over the next five years.
Alastair Hamilton, Chief Executive of Invest Northern Ireland added: "In the current difficult economic climate, KTP offers businesses an innovative, cost-effective and flexible option to help them address business issues. I believe that, as many more Northern Ireland companies become more aware of the commercial rewards of collaboration, this will put the KTP programme in an even stronger position and enable it to play a larger role in boosting business success."
Ulster academics Dr Kevin Curran from the School of Computing and Intelligent Systems at Magee campus, Professor Dennis McKeag from the School of Engineering and Engineering graduate and KTP Associate Dr Charles Young worked with Nuprint on this project.
The Derry based company specialises in the print of labelling for the food, drink, clothing and pharmaceutical industries and supplies a wide range of small and large businesses around the world.
Ulster's partnership with Nuprint is one of a number of exciting KTP projects between Ulster and the local business community.
KTP is funded in Northern Ireland by Invest Northern Ireland and the Technology Strategy Board, and delivered by its universities and colleges.
The University of Ulster is one of the main providers of KTPs in Northern Ireland and is ranked in the Top 10 of UK Knowledge Transfer performers out of 156 institutions.
Caption: University of Ulster Emeritus Professor Dennis McKeag, Pro Vice Chancellor of Research and Innovation Hugh McKenna, Dr Kevin Curran, Invest Ni Chief Executive Alistair Hamilton, Nuprint Managing Director Gavin Killeen and KTP Associate Dr Charles Young.