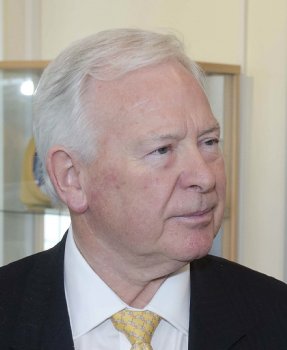 Leading industrialist Sir John Parker, President of the Royal Academy of Engineering, today called on universities to work more closely with industry for the long term economic benefit of society as a whole.
His call came as he visited the University of Ulster's Jordanstown campus as part of a two-day visit to Northern Ireland.
Sir John, a native of Northern Ireland and a former Chief Executive of Harland & Wolff, was accompanied during his visit by Philip Greenish, Chief Executive of the Royal Academy of Engineering and Dr Norman Apsley of the NI Science Park.
Sir John met senior university staff for a briefing on engineering research projects under way in the university.
Speaking after meeting University staff, Sir John said:
"Engineering is in the DNA of Northern Ireland's people: they are creative people, natural engineers. What I've seen here this morning are multidisciplinary approaches to solving today's problems and creating tomorrow's industries.
"It has been particularly impressive to see chemists working alongside biologists, alongside engineers, creating tomorrow's companies.
"I'm very optimistic about this part of the world and its ability to create the businesses that we need for tomorrow."
"In my view, we will only survive in the developed world if we really apply our intellects, and leverage all our engineering and technological capabilities. We've got to be on the front foot in the global marketplace and create new businesses and the new ideas.
"It is innovative ideas that will create the new businesses of the future."
Turning to the role universities can play in this process, Sir John said:
" I'm very confident of the capabilities of the universities in the UK and Ireland. They have a unique ability to work with industry – and indeed with government – in order to carry out imaginative, well funded research, and then to work with industry to apply that research to build new businesses."
Sir John, who is also chairman of mining corporation Anglo American, and a Director of European aerospace giant EADS, was welcomed to the university by Professor Hugh McKenna, Pro-Vice-Chancellor for Research & Innovation and senior staff from the Faculty of Computing and Engineering including the Dean, Professor Richard Millar, and Professor Jim McLaughlin, Director of the Engineering Research Institute (ERI) at the university.
During his visit to Northern Ireland, Sir John will also visit the NI Science Park, QUB, and will attend the annual £25K Innovation Awards organised by NISP.
ENDS
See a short video interview with Sir John Parker at the University of Ulster: http://youtu.be/eGEVqUr8l0s